Natural dog food is all the rage these days, but is it right for your pet? Dog food with naturally sourced ingredients does, indeed, have its merits. It's usually healthier and offers a range of benefits. Plus, you can rest well knowing you're not feeding your dog unknown animal bits from who knows where!
On the other side of the coin, natural dog food is expensive. Hence, some owners dismiss it as just a marketing gimmick designed to milk us for our hard-earned cash.
Today, we'll delve into two natural dog food brands, 4Health vs. Taste of the Wild. In the end, you get to decide if a premium dog food is the right choice for your best friend.
OUR TOP PICK
Our first top pick is
4Health Grain Free Beef and Potato
which is a grain-free formula from 4Health that gives your dogs wholesome nutrition from beef and potatoes. The probiotics added to this recipe help in the dog's digestion.
4Health vs Taste of the Wild Product Reviews…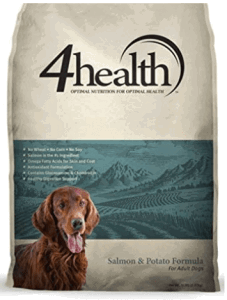 This dog food is part of 4Health's original line, made with real salmon and potato.
Features
Real salmon is the #1 ingredient
No corn, soy, or wheat
Contains glucosamine and chondroitin for joint health
Features probiotics that are specific to your dog for excellent digestive health
What We Like
We like that this feed uses real, protein-packed salmon. It's a great alternative to traditional meat like chicken, especially if your dog is allergic to it. The added omega fatty acids lead to fabulous-looking fur and coat.
We tried switching to this brand after one of our Lab Retrievers started having digestion problems. Initially, the price was our primary concern, but we were glad to find that it was better than her previous feed! She took to it immediately, and even the quality of her poop improved.
What We Don't Like
About the only bad thing we can say about this is availability. It's harder to find than most, and pet stores that have it sell out quickly.
Pros
Contains no chicken
Rich in Omega-3 and -6
Taurine for heart health
High antioxidant content
Cons
Limited availability
Often sold out
4Health Salmon and Potato is one of the best value dog foods you can buy. It uses real quality salmon, has no grain fillers, and is available at a stellar price. Your pet will benefit from the higher protein and omega levels in this feed.
If your dog is allergic to chicken or beef, this is an excellent alternative for them as well. No soy, wheat, and corn mean fewer allergies are triggered. Overall, this is an excellent feed.
Overall Rating: 4.7 / 5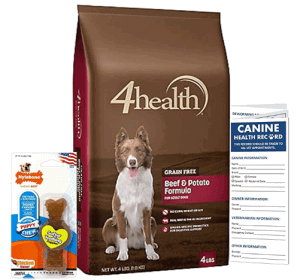 This beef and potato recipe is a grain-free variant of the 4Health original. It is perfect for dogs with sensitivity to grains like corn and rice.
Features
Grain-free
Real meat is the first ingredient
Contains probiotics that are specific to your dog's needs for optimal digestion
What We Like
We like that this dog food is packed with nutrition from the right sources. No grain fillers mean your dog gets most of their nutrition from high-quality beef and potatoes. Beef's high-protein content will ensure your dog builds muscle and maintains a healthy immune system. Potatoes are also a very digestible source of carbohydrates.
This dog food is perfect for dogs with finicky digestion. The added canine-specific probiotics help these dogs absorb the nutrients they need readily. Coby, our Irish Setter, is notoriously gluten intolerant. We switched him to this food a few months ago, and he's as happy as can be. He's got good stool quality and great-looking fur, too!
What We Don't Like
We did our research and found that 4Health has made some changes in this feed's formulation over the years. For one, they switched from sunflower oil to poultry fat, a far inferior fat source.
Pros
No fillers
High protein content
Improves digestion
4Health Grain Free Beef and Potato is a hearty and nutrient-dense food. It's a great grain-free alternative for dogs with food sensitivities, while also providing them with a balanced meal. The added probiotics are great for aiding your dog's digestion.
All in all, this is an excellent grain-free option at an affordable price.
Overall Rating: 4.2 / 5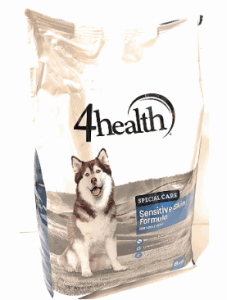 4Health's Special Care line is for dogs with specific conditions that trigger precise nutrition needs. This one is for dogs with skin sensitivities or shedding problems.
Features
Hydrolyzed salmon as a protein source
Grain-free
Blend of Omega-6 and Omega-3 fatty acids for skin and fur health
Contains taurine for a healthy heart
What We Like
This is one of the limited-ingredient diet brands we use a lot for Hershey, our Siberian Husky. We noticed she was shedding a lot more than usual. This would worsen when warmer weather set in. After much research, we settled on this because it was specific to dogs with sensitive skin.
We are happy to report that our little gal is now sporting a gorgeous coat, even during summer months. We also noticed she's more energetic.
What We Don't Like
We're partial to meat being the top ingredient in any dog food. We're a bit disappointed to see that, in this case, it's peas.
Pros
Limited ingredients
No corn, wheat, or soy
Great for dogs with allergies
Include probiotics
Cons
Meat isn't the first ingredient
More expensive
Hard to find
4Health's Special Care line is an excellent choice for dogs with special needs. It has the right amounts of essential oils and vitamins to ensure your pet's healthy coat. It does, however, carry a slightly higher price tag, and protein isn't the main star here.
We would recommend going for this one if your dog's skin sensitivity is off the charts. If you're just looking to maintain your dog's already beautiful fur, it's better to go with the Original or Grain-Free line.
Overall Rating: 4.1 / 5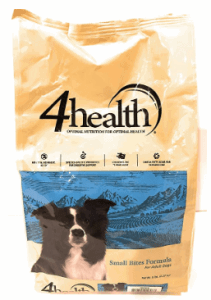 4Health Untamed is a protein-forward product line that uses real, wild river trout for a rich, fish taste.
Features
Real river trout is the #1 ingredient
Grain-free
Limited-ingredient diet for dogs with food sensitivity
Blend of Omega-6 and Omega-3 fatty acids for skin health
Dog-specific probiotics for digestive health
What We Like
We really like the use of real "exotic" trout in this dog food. It's exotic because you don't usually see this protein in regular dog food. Fish also has some added benefits, in the form of fatty acids that help give your dog that great-looking coat. It adds lentils to get some quality carbs into the mix too.
We also observed that dogs seem to like the taste of this food. Our friend's German Shepherds gets very excited at mealtime since they switched him to this feed. It might be because it's protein-rich – or just something new.
What We Don't Like
While still relatively cheap, this food is slightly more expensive than other 4Health lines. It's also hard to find much like the rest of 4Health products.
Pros
Rich in antioxidants
Complex carbs from vegetables
Dogs seem to really like it
Cons
Limited availability
A little spendy
This protein-rich dog food is all the rage for the dogs we know. Its use of trout and lentils provides a protein-rich, high-quality source of protein, fat, and carbs.
If you have a pet with food sensitivities or one that is allergic to regular dog food, this might be a good choice. The rich and unique ingredient combination also might appeal to picky eaters.
Overall Rating: 4.5 / 5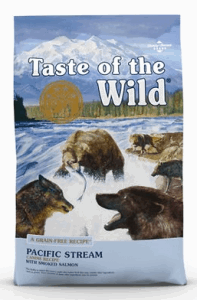 Taste of the Wild Pacific Stream provides fish-based dog food for very picky eaters. It features rich smoked salmon as the primary protein source.
Features
Uses sustainably sourced salmon
Guaranteed 800 million units of probiotics per pound of food
The egg-free formulation is helpful for food-sensitive dogs
Includes a natural source of antioxidants from fruits and veggies
What We Like
We love how ecologically responsible this dog food is. Feeding your dog farm-raised and wild-caught salmon can make you feel good inside. Not to mention the fact that your dog is getting some very high-quality protein.
Being fish-based, we also like that this formula delivers healthy essential oils for your dog. The balance of nutrients and probiotics will also ensure digestibility and nutrient absorption.
What We Don't Like
It is on the expensive side.
Pros
Farm-raised and wild-caught ingredients
Rich in protein
Probiotics for better digestion
Lots of antioxidants
Overall, Taste of the Wild Pacific Stream is a great way to get all the "good stuff" to your dog. Salmon provides essential proteins and fat for your dog's vigor and coat health. Dogs also tend to like the rich taste of this feed.
If you have a very picky eater with a sensitive stomach, this is a great choice. The only downside is that it will chomp a big chunk off your dog-food budget.
Overall Rating: 4.2 / 5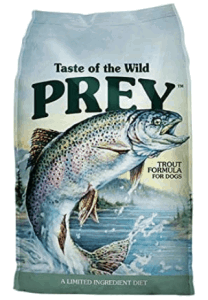 This simple but nutritionally complete dog food is for dogs that need a limited-ingredient diet. It uses high-quality river trout and other premium ingredients.
Features
Uses only four key ingredients: spring-fed trout, lentils, sunflower oil, and tomato pomace
Grain-free recipe
Guarantees 800 million units of probiotics per pound
Uses non-GMO products
What We Like
This is one of the highest quality dog foods you'll find on the market. We previously had our Golden Retriever on the PREY Turkey dog food. For a dog who usually only goes for beef, he took to this trout exceptionally well. The combination of sunflower oil and fish also delivers a healthy boost of omega fatty acids.
What We Don't Like
PREY is also one of the most expensive dog foods you'll find on the market, which makes it less than ideal for those on a budget.
Pros
Rich in Omega fatty acids
Lean protein source
Lentil for healthy complex carbs
Available in various bag sizes
Cons
Very expensive
Some dogs may not like the fish
Taste of the Wild PREY Trout is an excellent blend of quality ingredients and the right nutrition. If you're all about feeding your dogs the very best, PREY is the food for you. Unfortunately, it will be costly.
Overall Rating: 4.4 / 5
Main Differences Between 4Health vs Taste of the Wild Dog Food
The main differences between 4Health vs Taste of the Wild Dog Food are:
The top ingredients in 4Health dog food are Salmon, Ocean Fish Meal, and Potatoes, whereas the top ingredients in Taste of the Wild dog food are also Salmon, Ocean Fish Meal, and Sweet Potatoes.
The protein content in 4Health dog food is 25%, whereas the protein content in Taste of the Wild Dog food is also the same 25%.
The average price per pound of 4Health dog food is $5.12, whereas the average price per pound of Taste of the Wild dog food is $3.8.
Product Category
Before heading out to buy dog food, it pays to do your homework. For one, you need to know your dog's exact needs. Is it a puppy who needs more calories and protein? Or is your dog allergic to certain kinds of food? Knowing this will allow you to tailor-fit a feed to your dog's requirements.
Once you know this, you then can evaluate potential brands. If you're having a hard time, these tips might help:
Know the Protein Source
Not all protein is created equal. You need to look at the actual meat in the dog food and where it comes from.
The worst offender is any dog food that lists, simply, "meat." Legally, this can be any meat or meat byproduct. It can include nutritious things, like liver or offal, or it may contain undesirables, like hair or hooves. It can also be sourced anywhere from farms to factory waste.
It's best to go with a trusted brand that discloses everything on its labels.
Read Ingredient Labels
Learning to decipher ingredients on dog-food labels is crucial. Unfortunately, there are a lot of gimmicks out there that can make it difficult for you to do this.
FDA regulations require that dog-food brands list ingredients, by order of weight. Those higher on the list will contain more of that item than those further down. So, if the product claims it has beef, but beef is listed in the middle of the ingredient list, be especially skeptical.
You'll also come across marketing talk that can further confuse you about what a product contains. Single-ingredient products like "beef dog food" must contain at least 95% beef. However, there's a BIG difference when it states, "beef-flavored dog food." These "flavored" items need only contain detectable amounts of beef. Some might not even contain actual meat!
If you're interested in how to be a dog-food-label expert, check out this nifty guide.
Make Sure It's Nutritionally Balanced and Complete
The problem with some dog owners is that they buy any random dog food and call it a day. The thing is, this might not be nutritionally beneficial to your dog. It may be the equivalent of you eating nothing but junk food all day.
Like humans, dogs need a certain level of macronutrients (proteins, fats, carbs, and other nutrients) for optimal health. This ratio varies from dog to dog and depends on factors like life stage and activity level.
You need to make sure the dog food you buy meets the guidelines set by the Association of American Feed Control Officials (AAFCO). These guidelines specify the ideal amount of macronutrients nutrients that any dog food should have.
Most dog food brands will have a guaranteed analysis for each product, which tells you the minimum amount of each nutrient in the food product.
Make Sure It Has a Good Safety Record
This one isn't as obvious but is equally important. Check for any recalls of the product or brand in the past few months or so. Common reasons include the identification of contaminants, such as salmonella.
You can use this extensive product recall list. For more information, you can also peruse the US Food and Drug Administration resource for dog owners.
Similarities and Differences
4Health touts itself as a premium brand without the premium price. It emphasizes its use of real meat and produce in its products. Top product lines include the Original line and a Grain-Free line. 4Health also has a Special Care line for pets with sensitive skin and stomachs. Finally, the Untamed line promotes the natural-meat diet that dogs used to have in the wild.
Common features include:
Named meat as the #1 ingredient – 4Health uses only natural meat from credible sources.
No corn, wheat, or soy – 4Health uses only quality vegetables in its products— no allergy-causing or filler products like soy.
Probiotics – each product is guaranteed to contain species-specific probiotics, ensuring excellent digestive health for your dog.
Omega Fatty Acids – adding these essential oils in 4Health dog food gives your dog healthy skin and coat.
Antioxidant Boost – boosts immune-system health and delays aging in your dog.
Taste of the Wild is exactly as the company says. It gives your dog a taste of the meaty, natural diet its ancestors used to eat. This company cares not only about using quality meat in its products but is transparent about where ingredients come from—so you'll get cage-free turkey, pasture-raised cattle, and river-caught trout. Taste of the Wild has two lines: its original product and its limited-ingredient range, PREY.
Common features include:
#1 ingredient is real meat – Taste of the Wild only uses real meat in its products. No meat meal or byproducts included, ever.
Grain-Free – Taste of the Wild doesn't use any grains, so your dog gets more nutrition from meat.
Probiotics – All Taste of the Wild dog foods contain a guaranteed level of probiotics to ensure proper digestion and nutrient absorption.
Single Cooked Meats – most dog food contains rendered meat that's cooked many times. Taste of the Wild cooks its dog-food meat only once to retain the highest level of nutrients.
Head-to-Head Comparison
Here, we make a head-to-head comparison of two representative products 4Health and Taste of the Wild. We'll address some of the key features, namely:
Guaranteed Analysis
AAFCO guidelines require dog-food brands to ensure nutritional content in their products. As a consumer, this allows you to judge whether a particular dog food can meet your pet's dietary needs.
Top 3 Ingredients
The first few items on an ingredient list are essential. These are the ingredients that make up the majority of the product. If these are mostly quality items, that's a good sign.
Cost
We recommend going for the product that's the best fit for your dog's needs AND within your budget. Going randomly for any premium product can be both a money drain and a health risk for your pet.
Feature Comparison
Feature Comparison
4Health Original

Salmon and Potato

Taste of the Wild

Pacific Stream with

Smoked Salmon

Top 3 Ingredients
Salmon

Ocean Fish Meal

Potatoes

Salmon

Ocean Fish Meal

Sweet Potatoes

Guaranteed Analysis
Protein: 25%

Fat: 14%

Fiber: 3%

Omega-6 Fatty Acids: 2.5%

Omega-3 Fatty Acids: 0.5%

Protein: 25%

Fat: 15%

Fiber: 3%

Omega-6 Fatty Acids: 2.4%

Omega-3 Fatty Acids: 0.3%

Average Price/Pound
$5.12 per pound on Amazon, $1.08 on 4Health official site
$3.8 per pound on Amazon
4Health Brand
4Health is a dog-food brand made for Tractor Supply Company (TSC), a rural-lifestyle store. The 4Health brand focuses on delivering natural, premium products at a fantastic price. This is its biggest draw. The cost of the company's dog food is 20% less than that of premium brands, comparable to the likes of Purina One!
You should also know that Diamond Pet Foods, Inc. manufactures this feed. Unfortunately, this means any recalls on Diamond might also affect 4Health, and they've had quite a few; you can check them out here.
It's also worth mentioning that you generally can't find many 4Health products on Amazon, and if you do, it's super-expensive. Your best bet is to buy it directly from TSC or one of its accredited pet stores.
Taste of the Wild Brand
Taste of the Wild is comparable in quality with that of 4Health. It emphasizes real meat and natural ingredients. Where the two differ is in the approach. Taste of the Wild is all about your dog's natural diet, like the way their ancestors ate in nature, so it tends to use lesser-seen meats like bison and venison. Taste of the Wild proteins are sustainably sourced, as the brand opts for responsibly raised and wild-caught animals.
Pricewise, Taste of the Wild tends to be more on the expensive side. This is especially true with its PREY line.
Final Thoughts
Admittedly, it's hard to decide on a winner in the 4Health vs. Taste of the Wild battle. Quality-wise, both are up to par, endorsing natural ingredients, grain-free formulations, and protein-rich diets.
4Health's main advantage is its price. The use of premium ingredients in its formulas at budget-friendly price is hard to ignore. Our favorite choice from this brand is 4Health Grain Free Beef and Potato that provides a protein rich and fulfilling meal for your dogs.
Taste of the Wild has a better edge on the way it positions itself. It emphasizes sustainable sources for its protein, and it seems to use higher-quality ingredients than 4Health. It has fewer but more delicious flavors such as this Taste of the Wild Pacific Stream Canine formula with smoked salmon and other essential ingredients for a great tasting meal.
In the end, we're going with 4Health. Its friendly price point will benefit a lot more dog owners in the long run.