Hills diet puppy food is a leading puppy food supplier and a darling of nutritionists and vets across the USA. Its line of food products is made from wholesome and specially selected ingredients— something that makes them irresistible to puppies
Packed with energy, proteins, minerals, and vitamins, any local vet would recommend this line for a strong and a well-developed puppy.
Until you read this Science Hills Puppy food review, you may never appreciate the variety of flavors and vast choice it offers your pets. Enriched with the best ingredients and unblemished by artificial flavors and colors, every kibble is a bite your dog will surely love.
Hills Science Diet Best Puppy Food
If you're short on time, the best puppy food I found while compiling this review was Hill's Science Diet Puppy Savory Stew with chicken and vegetables.
Hills Diet Puppy Food Reviews
Small Bites is a dry food specially formulated to take care of the growth needs of puppies. It not only gives them a great head start in life but enables them to attain their growth potential. It comes in chicken flavor—something that your puppy is sure to enjoy.
Key Features
29.8 percent protein
19.1 percent fat
40.9 percent carbs
Made from chicken meal
Contains Omega 3 and 6 fatty acids
I'm a fan of Hill's Science Diet Puppy Small Bites Chicken & Barley Recipe Dog Food because it is a delicious treat for puppies packed with essential nutrients carefully selected to make little pups more active and allow them to grow strong.
It won't take long for you to notice how much their coat shines from the rich vitamin E and other minerals found in this food.
However, it is unfortunate that puppy's with sensitivities and allergies to grain and gluten would have to skip this product.
Pros
Formulated with high-quality fish oil for sight and brain development
Has real chicken meal and chicken by-product meal
Lots of lean protein healthy for muscle development
Contains natural and carefully selected fruits and veggies, such as cranberries, carrots, broccoli and green peas, rich in vitamins C and Vitamin E
Small kibble sizes that are easy for the little guys
Cons
Not suitable for sensitive puppies, contains corn, soy oil, and barley
This formula is a fantastic treat for small and toy puppies. It has small easy-to-bite kibbles that are packed with energy and delicious flavors.
Overall Score: 4.5/5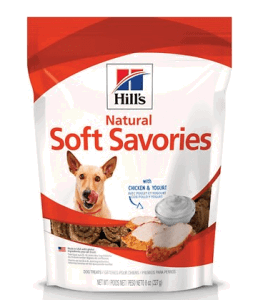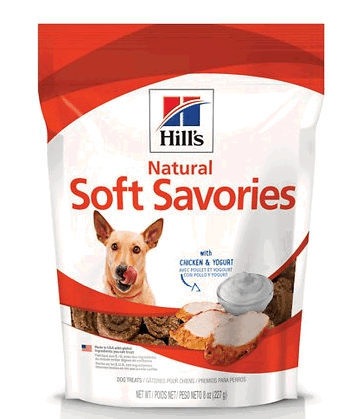 Hill's Science Diet Soft Savories with Chicken & Yogurt Savories are more of a treat than an actual puppy food, but they sneak into our Science Diet puppy food reviews simply because they are that good!
Key Features
15.8 percent protein
11.5 fat
68.5 percent carbs
Real Chicken
One of the things I love about these soft savory treats is that they don't include artificial flavors or additives. They also have a high carb content that is great for an active and playful puppy.
While these are great treats, I caution that they aren't a substitute for regular puppy food. Not only would that get very expensive, but it also may not offer well-balanced nutrition.
Pros
Uses real chicken as an ingredient
Soft and tender, your puppy will have a field day
No artificial flavors or preservatives
Rich in flavors, wholesome ingredients, and essential vitamins
100-percent satisfaction guaranteed or your money back.
Cons
It is just a snack, not a substitute main meal
Has wheat and other gluten products
This product offers a rewarding snack for your puppy. It packs an energy punch per serving and is full of nutrients. Its rich flavors will leave your puppy smacking their lips.
Overall Score: 4.9/5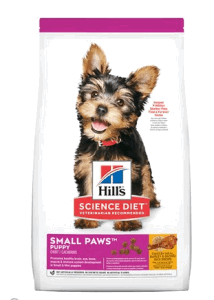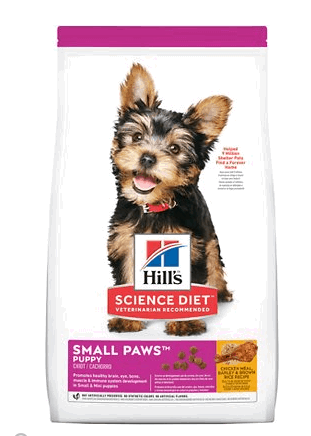 Small and toy breed puppies need a lot of energy and proteins for their growth. This is why Hill's Science Diet Puppy Small & Toy breed is formulated with high-quality protein and all the minerals required for their growth. The small-sized kibble is also perfect for them, making it an easy meal.
Key Features
30.4 percent protein
18.8 percent fat
39.9 percent carb
Contains chicken and pork meal
378 kcal/cup
Hills puppy small and toy breed recipe has a high amount of protein to ensures your little puppy grows strong and has enough energy to play around with you. It also has enough calcium for strong bone development coupled with vitamins C and E, which are great for stronger immunity.
One main problem with this diet is that it is heavy on grains. If your puppy has sensitivities, then this is a poor choice.
Pros
No artificial colors, flavors, or preservatives
Rich in DHA from fish oil for a smart puppy
Build a robust immune system from bundled antioxidants
Easy on the digestive system
Cons
Contains wheat, corn, barley, and gluten meal
This is a specially formulated meal for the little guys. It has an easily digestible kibble that is packed with great flavors and nutrients.
Overall Score: 4.2/5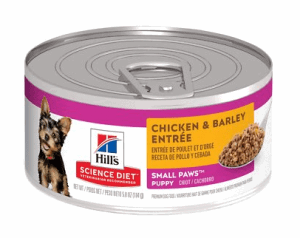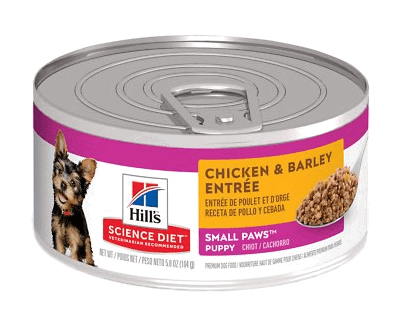 Hill's chicken and barley entrée dog food has great taste and is perfectly balanced to help build immunity and mobility. It is made from a blend of superior ingredients that enhances overall health.
Rich in fiber, it ensures healthy digestion. It has a pleasant meaty taste that your pup won't be able to resist!
Key Features
28.4 percent protein
22.7 percent fat
39.5 percent carb
Made with chicken, whole grain corn, and cracked peeled barley
This puppy food has a savory formula that your dogs will love. It is a blend of high-quality and precisely balanced ingredients to promote mobility and growth. If your puppy breed is prone to obesity, this is the best meal for them. It is fiber rich to enhance metabolism.
Unlike other food in our science diet puppy food reviews, this one does not contain veggies. It, however, has some mineral and vitamin supplements that do the same job.
Pros
Balanced protein, carb, and fat ratio for maximum growth and energy
Strong bone development
Helps support beautiful skin and coat
Highly digestible
Cons
There are no veggies in this recipe
Hill's Science Diet Puppy Small and Toy Chicken and Barley Entrée is designed for the growing puppies. It is a well-formulated dog food that promotes faster growth and development of the little guys.
Overall Score: 4.1/5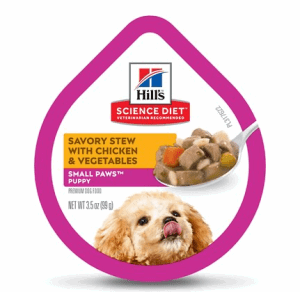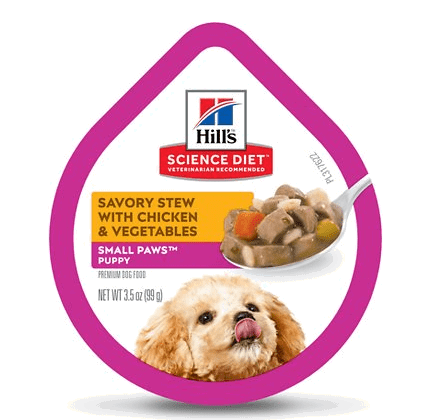 This is a delicious and easily digested meal for your small or toy puppy that is formulated from a well-balanced nutritional and natural ingredient list to provide your puppy with the best health and well-being.
It is made using authentic chicken, brown rice, and a healthy mix of delectable vegetables all blended into a tasty broth.
Key Features
31.1 percent protein
17.3 percent fat
40.7 percent carbs
Made with chicken and pork liver
Any vet will tell you that your small or toy puppy needs lots of protein and calcium to grow strong. This is why Hill's have put more lean protein into the small and toy breed savory stew. The meal is blended with vitamin and fiber-rich vegetables for easy digestion and a healthy coat. I noticed my puppy developed a keen sense of intelligence because of the DHA in the food.
On the downside, this puppy food contains wheat and soy oil. Some puppies are sensitive to wheat.
Pros
High-quality lean protein for better growth and development
Made with carefully selected natural ingredients
Has a unique small and mini antioxidant blend to improve your puppy's immune support
Recommended by vets
Cons
Contains soy oil, some dogs are sensitive to soy.
This formula has a broth for small and toy puppies that contains choice mineral and vitamins for strong bones coupled with lean protein for healthy muscle development. It is a savory meal that your pet will love.
Overall Score: 4.0/5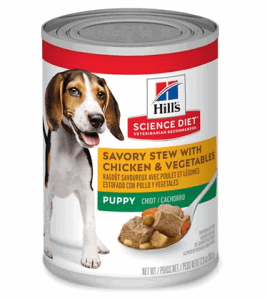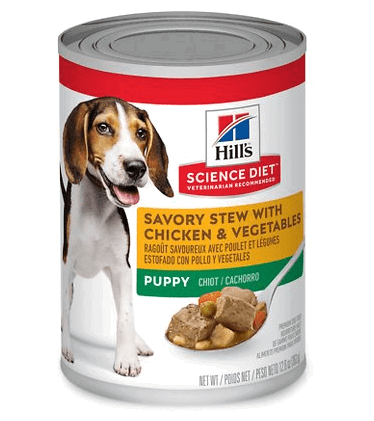 A savory puppy stew that will tickle your puppy's taste buds, this puppy food is both nutritional and highly palatable. It is made from a tasty combination of vegetables and chicken chunks. It is rich in antioxidants and promotes a very healthy immune system.
Key Features
31.5 percent protein
18 percent
50.5 percent carb
Includes healthy proteins including chicken and pork liver
Fantastic vegetable blend with carrots, beets, and potatoes
Made with brown rice and wheat
There are a lot of puppies that can't tolerate beef. If your dog is one of those, you are in for a treat. This puppy meal uses chicken as its first ingredient and packs enough protein to guarantee your puppy's growth. It is fortified with vitamins and minerals to ensure your puppy develops a strong immunity.
While soybean oil is not bad, some puppies are sensitive to grains which can lead to itching and skin rashes. You should avoid this if your puppy has sensitivities.
Pros
Great for healthy brain and eye development in puppies as a result of DHA
Uses a balanced set of minerals that are required for strong bones and teeth in young puppies
Easily digested and absorbed ingredients
All ingredients are natural including colors, preservatives, and flavors
Trusted by veterinarians
Cons
This wet puppy food is a great alternative for puppies that are growing up. It has a high protein, fat, and carb content to ensure your puppy is energetic throughout the day and grow strong.
Overall Score: 4.3/5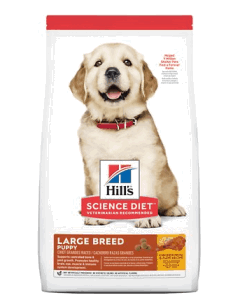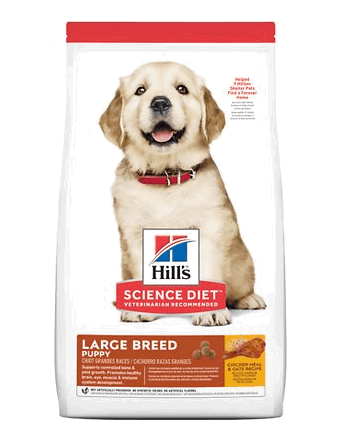 Our first and only Hill's Science large breed puppy food review, this food is an excellent choice for larger breed puppies. Large breed puppies have a different nutritional requirement compared to the small puppies.
As a result, Hill's has formulated a special meal that targets them. It is rich in bone and muscle building nutrients as well as enough carbs and proteins for an energetic day playing.
Key Features
29.5 percent protein
16.1 percent fat
44.9 percent carbs
Made with chicken meal
Contains wheat, corn, and sorghum oats
High-quality vegetable blend with spinach, apples, broccoli, cranberries, and green peas
This puppy food includes a healthy dose of wholesome ingredients that are great for the digestive system. Don't be surprised when your dog starts pooping more frequently after switching to this food, though.
In addition to fiber, there is also a rich combination of fruits and veggies that are full of vitamins and antioxidants for a disease-resistant puppy.
Pros
Has a high protein content
Promotes great skin and fur from all the antioxidants and vitamin E
Has DHA from fish oil for healthy brain and eye development
Each cup has 353 calories
Cons
It is not grain-free puppy food
Large puppies have different dietary requirements compared to smaller and toy puppies. This savory stew for the large puppies is both tasty and has all the nutritional needs for their growth and development. The delicious chicken flavor will leave your puppy licking their bowl.
Overall Score: 4.5/5
Hill's Company Overview
With a presence in more than 86 countries, Hill's is a reputable dog food company. They have been around since the 1960s, offering reliable and high-quality dog food to millions of dog owners worldwide. They provide nutritious dog food for different breeds, sizes, and ages, which is why they are loved by everybody.
Why Should You Use Hill's Puppy Food?
Apart from being formulated by a team of nutritionists and vets, Hill's puppy food stands out because of their choice of ingredients. They have a knack for carefully selecting natural ingredients and upholding high standards of quality, something that their rivals can't do. Whether you're looking for food for a newly-born puppy or changing a grown pup's diet, your puppy will grow strong and healthy every step of the way.
FAQs
Does Hill's Science Offer Large Puppy Food?
There is plenty of Hill's science diet food options suitable for large breeds. In our Hill's science puppy food reviews, we have included a list of Association of American Feed Control Officials (AAFCO) approved puppy food you can use to feed to feed your little champ.
These small bite kibbles are specially designed to meet the protein, fat, and mineral requirements for your puppy's growth. They work better than the adult AAFCO -approved food.
Is Grain Free Puppy Food Better?
Does your puppy have grain-specific allergies and sensitivities? If the answer is YES, then grain free puppy food is good for your puppy. You need to be careful about foods that claim to be free from wheat, soy, or corn.
In most cases, you will find other ingredients such as barley and rye, which contain gluten. A grain-free puppy food from our science diet puppy food is good for your puppy.
Final Thoughts
As you can see from our Hill's Science diet puppy food reviews, Hill's science puppy food is a leader in the market. They constantly innovate and maintain high standards of puppy food production following keen recommendations of both nutritionists and vets—but what really stands out is that it offers a lot of options with breed-specific dog foods and worldwide availability.