Purina is a leading pet food manufacturer that makes a wide selection of recipes for both cats and dogs. Enough so it can be hard to pick a product line from their collection. To help you out, we've put together this in-depth review including the brand's history and product highlights as well as recalls and controversies.
We've chosen to focus on two of Purina's primary product lines – Purina Pro Plan vs. Purina One – and comprehensively researched what sets each apart, their features, pros, and cons. This article will cover both dog and cat food categories, looking at the main ingredients used in both plans, recipes available, highlighted features, pros, cons, and each plan's drawbacks.
Main Differences Between Purina Pro Plan vs Purina One Pet Food
The main differences between Purina Pro Plan vs Purina One Pet Food are:
The main ingredients in Purina Pro Plan are Chicken, Liver, and Wheat, whereas the main ingredients in Purina One are Real Chicken and Wildfowl.
There are some artificial colors or Preservatives in Purina Pro Plan, whereas there are no artificial colors or preservatives in Purina One pet food.
The protein content in the Purina Pro Plan is 31.8%, whereas the protein content in Purina One is 31.6%.
OUR TOP PICK
Our favorite formula from the Purina One product line is
Purina One SmartBlend Lamb and Rice Formula
. It is a great tasting dog food with real lamb blended with other top ingredients for a complete diet that supports the overall health of adult dogs.
Purina Pro vs. Purina One Pet Food – Product Comparison and Reviews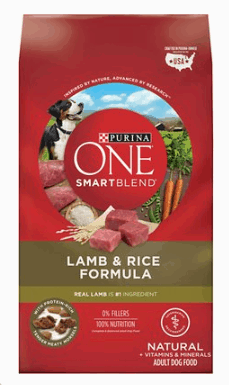 Lamb and rice are the mainstays of this dog food, supported with omega fatty acids, glucosamine, minerals, vitamins, and amino acids. This formula has a blend of nutrients that provide overall nutrition, bone health, joint health, and coat health for your dog.
Features
26% protein
16% fats
3% crude fiber
12% moisture content
Lamb is the main protein
Dogs This Food is Best for
This recipe is a good all-rounder for adult dogs without any health-related diet needs. It's also chicken-free making it safe for pups with poultry intolerance.
Pros
Omega fatty acids, vitamins, and minerals for coat health
Glucosamine for healthy joints
Refundable if you're not happy with the results within 28 days
Dogs seem to find it tasty
Cons
Not completely grain-free
SmartBlend is a premium dry dog food with an excellent taste and has omega fatty acids for a healthy coat. Lamb and rice are the mainstay of this product, perfect for dogs who don't digest chicken well.
Our Rating: 4.6/5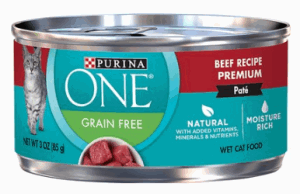 Tender, tasty, and delicious with real beef as the main ingredient. This high protein formula benefits your cat's overall health and muscle development, and what's more, the recipe contains no artificial flavorings or colors.
Features
11% protein
5% fats
5% crude fiber
78% moisture content
Real beef is the main protein
Cats This Food is Best for
This grain-free recipe is safe for cats of all ages and stages as a stand-alone food, mix-in, or treat.
Pros
Natural added vitamins and minerals for immune health
High protein content supports lean muscle development
100% grain-free
No artificial flavors or preservatives
Cons
Very low omega fatty acids content
If you're looking for a wet cat food recipe with natural ingredients, high protein and moisture content, no preservatives, and no grains, then consider this cat food. It provides balanced essential nutrition without any potential allergen-causing ingredients that could affect your cat in the long run.
Our Rating: 4.8/5
Pro Plan Savor is known for its premium, flavorful ingredients that dogs love. Lamb and rice feature in this recipe, which also has vitamins and minerals for immune health. The moisture content is slightly above average at 12%, which is a good thing for your dog, and although fatty acid levels are low, amino acids help in maintaining your dog's overall health.
Features
26% protein
16% fats
3% crude fiber
12% moisture content
Lamb is the main protein
Contains amino acids, vitamins, and minerals
Dogs This Food is Best for
This recipe works well for most adult dogs but isn't suitable for dogs with grain sensitivity. For a grain-inclusive food, it is highly digestible though.
Pros
Made with high-quality real lamb, supported with rice for energy provision
Contains prebiotics from wheat protein for optimal gut health
Provides balanced nutrition
Cons
Omega fatty acid levels are deficient
Savor is an excellent formula with premium tasting lamb and rice guaranteed to be a favorite everyday food for your dog. The added prebiotics support gut health and ease digestion, avoiding conditions like diarrhea and yielding firm stool every time.
Our Rating: 4.6/5
High-quality ingredients make up this premium wet cat food, delivering nutrition and flavor. Each serving has 25 essential vitamins and minerals to support immune health, as well as maintain your cat's healthy skin, fur, and overall coat health. The moisture content is also quite high, providing decent water content in your cat's food.
Features
11% protein
2% fat
5% crude fiber
80% moisture content
Chicken is the main protein
Cats This Food is Best for
Pro Plan entrees will work well for most cats provided they aren't sensitive to wheat or gluten. In the case of kittens with unknown food tolerances, it's best to introduce slowly and keep a watchful eye.
Pros
Tastes lovely and cats seem to love it
Supports coat and fur health
Contains essential vitamins and minerals for immune health
Cons
Contains potential allergens like wheat gluten and soy meal
This product has a premium flavor and contains chicken as its primary protein. However, there are other ingredients like wheat gluten that are considered filler ingredients as well as potential allergens present in trace quantities that could pose a problem eventually.
Our Rating: 4.3/5
Understanding and Determining the Best Food for Your Pet
High-quality foods keep pets healthy and happy while preventing ailments and serious diseases. Dogs and cats require meat-based protein more than any other nutrient. Also, the protein source should be specified – it should be easy to identify whether the food contains chicken, turkey, lamb, salmon, wildfowl, or beef, to give owners confidence in what their pets are eating. Vague meat ingredients and by-products breed doubt.
Carbohydrates, legumes, vitamins, minerals, and water should also be present in a pet's diet to ensure an all-round, well-balanced meal providing all the necessary nutrients for optimum growth. Carbs are essential for energy, proteins for muscle growth, fats provide energy reservoirs and reduce the risk of yeast infections, minerals aid in boosting immunity, fatty acids in maintaining a healthy-looking coat, and vitamins protect the cells, ascertain great vision and hearing, and help in bone development.
Moisture content is also essential. Pets don't drink as much water as they should unless the water is in their food. Furthermore, grain inclusion should be at a minimum.
Some ingredients like wheat, soy, artificial preservatives, flavors, and colors are harmful to your pet's health and shouldn't be present in their diet. They are potential allergens and overtime cause allergic reactions. Recipes with artificial preservatives, colors, and flavors indicate that the food may not have been high-quality in the first place. Consequently, some pet owners find fault with Purina because of this and have voiced their opinions accordingly.
About Purina
Founded in 1894 by three entrepreneurs Danforth, Robinson, and Andrews, Purina started as an animal feed supplier, Robinson-Danforth Commission Company. Over the years, it expanded, changed names, was acquired by Nestle, pioneered revolutionary pet products, and branched to exclusively producing dog and cat food.
Purina is renowned for its affordability, availability, and consistency in producing tasty meals. Their wet food contains higher nutritional benefits compared to other brands.
They have facilities in the US and Canada, and all their products meet the AAFCO, FDA and USDA nutritional standards as well as Purina's quality assurance standards. Ingredients come from around the world— grains from the US and Canada, lamb from New Zealand, and vitamins from trusted global suppliers.
Despite being affordable, Purina has had some setbacks. Over the last decade, the brand has had four product recalls for:
2011- potential salmonella contamination
2012 – inadequate thymine levels
2013 – higher antibiotics residue, more than legally allowed in the US market
2016 – insufficient vitamin and mineral levels
The latest controversy occurred in 2015 where a California man claimed that approximately 1,400 dogs, including three of his own, either died or fell sick after consuming the Purina Beneful dog food. In response, the FDA tested samples and indeed found traces of mycotoxins, propylene glycol, and metals, all harmful substances, but occurring in trace levels below recommended levels. The court ruled in Purina's favor.
Purina Product Variants and Models
Purina Pet Food has invested in varieties of both cat and dog food products encompassing different life stages and flavors to accommodate your pet's needs. They also have some of the most well-known brands, but in this article, we'll be looking specifically look at Purina Pro Plan vs. Purina One products for both cats and dogs, in three categories, wet food, dry food, and treats.
Product Lines
Purina Pro Plan
Purina One
Canine Formulas
Recipe Formulation

Formulated for dogs with special health conditions and contains as much as 45% protein content

High-protein and nutritious dog foods for dogs of all life stages and breeds. Proteins make up the main ingredient, supported by fillers such as poultry by-products, soybean meal, and whole grain.

Variants

Savor –natural ingredients
Bright Mind –nutrients to enhance brain health
Sports – help dogs get better strength and endurance
Focus – focus on unique nutritional demands
Natural – no corn, wheat, or soy ingredients

Dry Food
Wet Food
Smartblend
Puppy
True Instinct
Grain-free

Top 5 ingredients

First-rate real proteins as the primary ingredient.
Whole-grain or Grain-free carbohydrates

Chicken
Beef
Salmon
Corn gluten
Poultry by-products

Artificial Colors/Preservatives Content
Soybean, corn, and poultry by-products
Feline Formulas
Recipe Formulation

For cats with particular health conditions and contains as much as 45% protein content

Uses high-quality, natural, and high nutritional ingredients to elicit visible changes like a shinier coat and more energy with a minimum 34% protein content

Product Lines

True Nature – grain-free or high protein
Savor – dry, wet, treats, and shredded with 40% protein content
Focus – for unique nutritional demands like dental, hairball control, sensitive, indoor, weight, low-calorie, sensitive, natural and neutered
Prime Plus – for senior cats

Wet
Dry
Indoor
Kitten
True Instinct
Grain-free

Top ingredients

Water
Chicken
Liver
Wheat
Meat by-products

Real chicken, wildfowl, meat, or turkey
Essential fatty acids
Vital minerals and vitamins

Artificial Colors/Preservatives Content
Soybean, corn, and poultry by-products
Key Ingredients
| | | | | | |
| --- | --- | --- | --- | --- | --- |
| Dry Dog Food | Purina Pro Plan | Purina One | Wet Dog Food | Purina Pro Plan | Purina One |
| Crude Protein | 31.8% | 31.6% | | 47.3% | 45.3% |
| Crude Fiber | 4.3% | 4.3% | | 7.2% | 7.1% |
| Crude Fat | 17.9% | 17.2% | | 16.4% | 25.8% |
| Dry Cat Food | Purina Pro Plan | Purina One | Wet Cat Food | Purina Pro Plan | Purina One |
| Crude Protein | 45.6% | 40.5% | | 51.5% | 55.9% |
| Crude Fiber | 3.6% | 3.6% | | 6.9% | 7.4% |
| Crude Fat | 17.4% | 14.5% | | 17.1% | 14.7% |
Price Comparison
| | | | | | |
| --- | --- | --- | --- | --- | --- |
| Dry Dog Food | Purina Pro Plan | Purina One | Wet Dog Food | Purina Pro Plan | Purina One |
| Per Pound | $2.01 | $1.41 | | $2.84 | $1.67 |
| Dry Cat Food | | | Wet Cat Food | | |
| Per Pound | $2.90 | $1.72 | | $4.94 | $5.0 |
Purina Pro Plan

Pros
Readily available. You will find Purina Pro Plans in grocery stores, pet food retailers, and online at Amazon, Chewy, and other pet food online sellers.
They are affordable. Though slightly higher priced than Purina ONE, it is still cheap compared to other premium brands in the market.
There are different varieties. Hence, you're sure to find one recipe fitting your pet's demands and needs.
Several food brands and recipes fall under this line.
Cons
Artificial colors are present in some recipes. Though the levels are below toxic, frequent consumption might initiate health problems.
Protein amounts might not be sufficient in some select few recipes. If this is the case, opt for another high-value recipe.
Purina One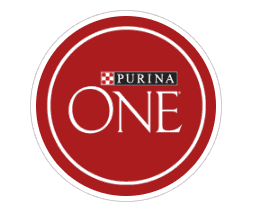 Pros
Just like Purina Pro Plan, Purina One is readily available in retailer shops, grocery stores, and online on Amazon, Chewy, and other online retailers.
They are affordable for their nutritional value, as compared to fellow brands.
They come in different forms, varieties, and catering for all age groups.
Cons
Presence of soybean, corn, and poultry by-products massively reduces its nutritional value.
Final Thoughts
With over 90+ years in manufacturing high-quality pet foods, Purina has some undeniable history and hands-on experience in the pet food industry. During those years, they have produced high quality, highly nutritious, healthy, and nourishing meals for our friends with fur.
It is, however, hard to turn a blind eye to the several product recalls and controversies that have embroiled this brand. Add that to the numerous negative reviews online, and we are left asking, is Purina the best pet food for your pet?
We can't authoritatively answer this, but what we are sure of is that their products contain excellent nutritional value, are pocket-friendly, and readily available in stores countrywide.
When trying to weigh one of their product lines against the other, it's difficult to crown a winner. Naturally, the two have a good number of similarities. Not to mention, what's best for one pet may be horrible for another.
If we had to name one or the other superior, though, it would be Pro Plan Savor Shredded Blend Chicken and Rice with hard kibble and chicken shreds to provide wholesome nutrition for healthy puppies. On the other hand, the Purina One SmartBlend Lamb and Rice Formula is an excellent flavor and is designed to provide complete nutrition for adult dogs.
While both lines feature quality ingredients, we found that the Pro Plan product line is more superior and generally has higher protein and a wider variety of flavor choices. But, our biggest recommendation would be to look for food that's best for your pet's individual needs.
We hope that this comparison review has helped you make the right decision when choosing the best nutritional product for your furry babies. If you don't find what you need from Purina, check out some of our other in-depth pet food reviews.