As a dog owner, it is easy to assume that your precious pooch is the center of the entire universe—they eat with us, snuggle with us, sleep with us, work with us, and walk with us. It is only natural, therefore, that you always seek the best quality for them, and this includes their diet.
Purina prides themselves on understanding this precious dog and owner bond, and on delivering high-quality, nutritious goodness in a range of products. Your pet is your king or queen, and deserve the very best quality. Will they get it here? Let's find out.
Top Pick
If you're short on time, the best Purina dog food for most dogs is going to be Purina One SmartBlend. It's suitable for a range of dog sizes, breeds, and life stages. We've reviewed it first for your convenience.
Purina Dog Food Reviews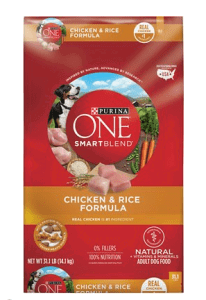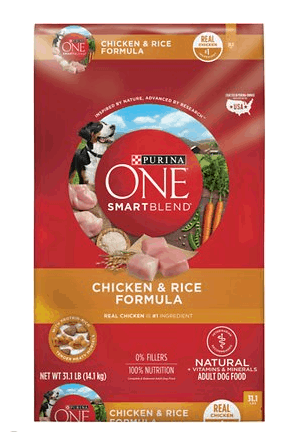 The best foods for your dog are those that resemble their natural diet as closely as possible, and this is a focus with this offering from Purina. Featuring actual chicken as the primary ingredient, you can blend taste and health into one meal.
Key Features
Includes real chicken as the primary ingredient
Other protein sources are included to build muscle and heart health
Omega-6 is added to improve coat and skin health
Easily digestible
Includes grains to create a holistic, healthy meal
What I Like
The focus on real, natural ingredients you can actually pronounce is the winning feature of this food for me. It feels as though you know what benefits your dog is getting, and exactly what they are eating— this can be rare with today's dog food offerings.
What I Don't Like
The inclusion of grains into the recipe is excellent for boosting energy but makes this an unsuitable choice for dogs with allergies.
Pros
Protein-rich chicken boosts heart health and builds muscle
Grains are used to increase your dog's energy levels
Vitamin A and E, zinc, and selenium help to boost the immune system
The tasty chicken will appeal to even fussy pooches
Cons
Contains grain
Some dogs may not enjoy the chicken flavor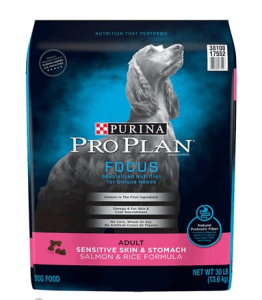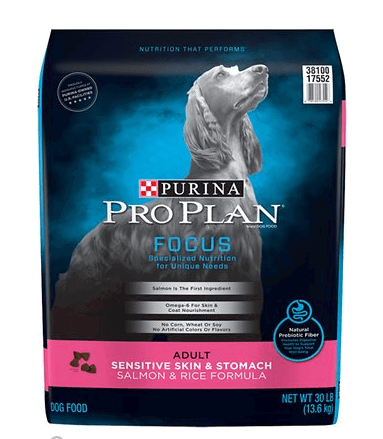 Dogs with sensitive stomachs can often feel left out when it comes to grabbing tasty and healthy foods— there is a temptation to keep flavors bland and simple to avoid discomfort, and this can be disappointing for pets. Purina however, combines a suitable blend of ingredients with great taste.
Key Features
Includes real salmon as the main ingredient
Includes oatmeal for a carbohydrate source
Omega-3 and Omega-6 fatty acids are included
Free from common allergens
What I Like
This is a fantastic option for those whose dogs suffer from intolerances, sensitive stomachs, or allergies, but who don't want to miss out on taste. By eliminating common allergens, this is an accessible formula which will suit dogs of all ages, sizes, and types.
What I Don't Like
The smell is quite strong and may be off-putting for more sensitive noses. In addition, dogs with severe intolerances still may not be able to manage this food.
Pros
Oatmeal and rice offers a gentle, digestible but effective type of carbohydrate
Real salmon provides a fantastic protein source
Prebiotic fiber helps soothe your dog's intestine and ease digestion
Fish oil helps boost joints and mobility
Zinc means your dogs skin and coat will stay shiny and healthy
Cons
Has a strong smell which may be a deterrent for some pooches
A great option for owners looking for a tasty but healthy food solution for dogs with poorly tummies, allergies, or intolerances.
Overall Rating: 10/10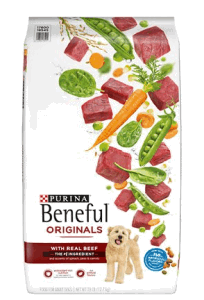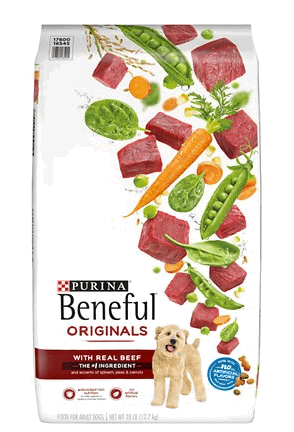 Real beef can feel like a luxury and is often unaffordable for most dog owners. Purina has created a fabulous, affordable food which will allow your canine companion to enjoy the benefits of real beef with a range of other nutrients to offer a great choice within your price range.
Key Features
Includes farm-raised beef as the core ingredient
Combines tender and crunchy textures
Includes spinach, peas, and carrots for protein and carbohydrates
Offers a blend of vitamins and minerals for excellent overall health
What I Like
This is a delicious blend of flavor and wellness, combining a vast variety of vitamins, antioxidants, and minerals which are designed to target every part of your dog for the best possible health. I also love the focus on sustainable, ethically sourced beef as a primary ingredient.
What I Don't Like
The only downside to beef is that it gives many dogs very stinky breath, and this can be unbearable in bigger dogs! The inclusion of red meat also means it is not suitable for dogs with allergies and intolerances or sensitivities.
Pros
Spinach, peas, and carrots are a unique and different taste as well as a good protein source to build healthy, lean muscle
Mixes crunchy and tender pieces – this is great for your dog's teeth
Plenty of antioxidants to target overall health and wellbeing
Cons
Red meat is a common allergen for some dogs
Can cause very stinky breath in some dogs
It feels luxurious to allow your dogs to enjoy real beef in their dinner, but this offering from Purina not only makes this possible but blends tasty beef with a host of other benefits to promote holistic wellbeing for your canine. This definitely ranks amongst one of the top choices for the best Purina dog food.
Overall Rating: 10/10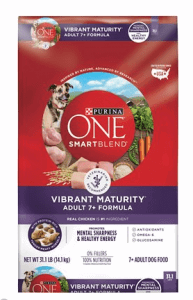 Just because your dog is getting older doesn't mean they don't still hanker after delicious food made with their favorite flavors. More advanced age also means they need some extra nutrients and vitamins to stay healthy, and Purina is adept at helping to provide this.
Key Features
Offers real chicken as the primary ingredient
Enhanced botanical oils for extra fuel
Easy to digest
Tender kibble is easy to chew even with older teeth
Support for healthy joints
What I Like
This is a wonderful way to make sure your older dog is getting all the nutrients and goodness he needs, without having to worry about him managing to chew or digest harsh ingredients. It offers a balanced, healthy diet which can keep your precious pet going for years to come.
What I Don't Like
The smaller kibble sizes can mean that dogs teeth aren't working as hard, and this can be an issue if you are looking to maintain good dental health.
Pros
Easy to digest, even for older dogs
Real chicken is a fantastic protein source
Botanical oils offer an extra boost of fuel and energy
Tender and meaty – easy to chew
Natural glucosamine help boost joint health
Cons
Smaller kibble sizes may be an issue for teeth
There is a risk of weight gain for some dogs
For an older dog, this is an ideal way to make sure your dog is getting all the benefits they need to stay fit and well for longer, keeping them active and alert way into their golden years.
Overall Rating: 10/10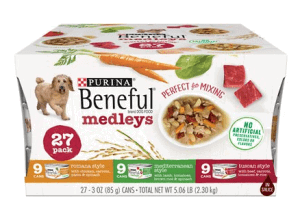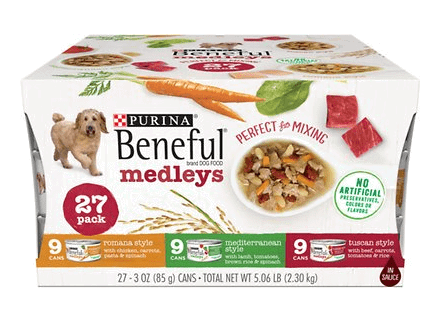 For a twist on the traditional dog food style, this is a great choice which offers unique flavors and a Mediterranean style which your dog is sure to enjoy!
Key Features
Tasty ingredients in a delicious sauce
Uses small, finely chopped chunks to be suitable for any age range
Offers vitamins and minerals for all over health
Tasty textures for dogs
Easy to store
What I Like
This is a great treat for your dog to try something different, and add some luxury and fun into their everyday kibble diet. With real meat at the heart of every recipe, these little cups offer a chance for your dog to enjoy the taste of the Mediterranean with plenty of benefits for their overall health.
What I Don't Like
There is a strong smell which some dogs may not like. In addition, the cans are quite small and could be better value for money.
Pros
Meat is finely chopped and suitable for every dog from puppyhood to old age
Ingredients are based on real meats, whole grains, and real vegetables for full nutritional benefit
No artificial colors, flavors, or preservatives
Totally balanced nutrition
Easy to store
Cons
Cans are small, and may not be enough to satisfy hungry pups
When it comes to the best Purina dog food, this is a serious contender. It offers something a little different but still blends a great taste with nutritional benefit.
Overall Rating: 10/10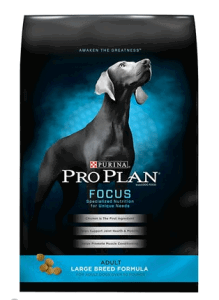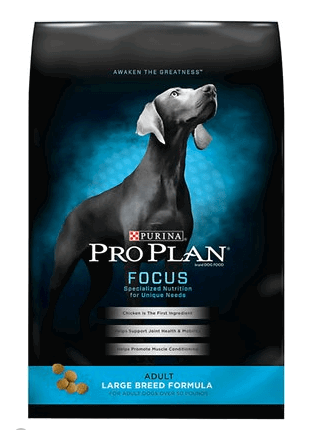 One of the advantages to the brand, as seen throughout our Purina dog food reviews, is that they offer something for all types of dogs. This formula is for larger breeds who need extra vitamins and benefits to keep them in top shape.
Key Features
26 percent protein and 12 percent fat
Includes Omega-3 fatty acid and glucosamine to help with joints
Omega-6 fatty acids perfect for healthy skin
Easy to digest
Designed to be fully absorbed for maximum benefits
What I Like
Every aspect of this product is specially designed for large dogs, and this is the major appeal for me. Larger breeds will often need more support with their joints, and this is targeted by including EPA and glucosamine in the food.
In addition, weight management is considered by reducing the fat content and replacing it with protein for lean but strong muscles.
What I Don't Like
The kibble pieces are huge, and this could be a problem for dogs who are not keen on having to chew a lot, such as older dogs or those who are unwell. Mixing with wet food is an option, but this means spending more money on an alternative food source which is less than ideal for owners.
Pros
Designed to aid weight management to keep your dog healthy
Contains vitamins and minerals to boost every area of your dog's health
Crunchy texture is great for teeth
Real chicken is the main ingredient – a great source of protein
Cons
Very large kibbles
Contains chicken – not suitable for dogs with poultry allergies
This choice is a good one for any dogs without allergies— it focuses on holistic health, and includes a blend of everything your dog needs to stay in shape.
Overall Rating: 9/10
Keeping your dog at a healthy weight is a key concern for dog owners, and it can be hard to balance this with a tasty dish your dog will actually want to eat. Purina manages to tick both boxes in offering a comprehensive diet plan for which your dog will be able to enjoy!
Key Features
25 percent less fat than other Pro Plan formulas
Chicken is the main ingredient
Includes antioxidants for a robust immune system
Crunchy texture
What I Like
This is a 'diet' dog food that doesn't feel as though your dog is missing out on any nutritional benefits. Instead, every area of the body is considered, and steps are taken to boost and protect from every angle. From the inside out, everything from the immune system to coat is covered, and it is nice to have an appealing option to offer a pet who needs to watch their weight.
What I Don't Like
This does contain grain, which is disappointing for those with allergies.
Pros
Antioxidants help to boost a healthy immune system
Includes lots of protein for strength
25 percent less fat for a lean version of the classic Purina recipe
Crunchy texture is great for building strong teeth
Cons
Has a high amount of corn and grains
Strong smell
When it comes to food for weight management, this is one of the best Purina dog food options and allows your pooch to enjoy their meals while staying sleek and healthy.
Overall Rating: 10/10
About the Brand
For Purina, the main focus is to deliver excellent quality nutrition for our pets, making sure they are receiving a balanced and holistic diet which allows them to live their very best lives. As our Purina dog food reviews have shown, there are products to suit dogs of every type, from small breeds to large, and from seniors to puppies. The emphasis is on natural ingredients where possible and enriching your dog's diet to help them grow up healthy, playful, and active.

Final Thoughts
Our top pick was the SmartBlend Chicken & Rice Formula as this is a great overall product that will suit most dogs. The taste is right up a hungry pup's street, and there is a combination of essential vitamins and minerals to keep them in tip-top condition. The inclusion of chicken is an issue for dogs with allergies, but Purina offers a range of fish alternatives to keep everyone happy!
If you are looking for alternatives, then we have also reviewed other brands like Instinct, Halo and Blue Buffalo.