So, you have a new dog. How do you know which dog food is best to feed your new buddy? There are lots of brands out there claiming that they're the ones to choose to help your furry friend be happy and healthy. Sorting through the options can be pretty overwhelming for any owner. In the end, it's tempting to give up and pick one at random.
While drawing names from a hat may be convenient, it can be pretty risky for dogs. You might not be giving them the nutrients they need. At worst, it can even cause harm.
To help you out, we're pitting two dog food brands against each other: Natural Balance vs. Taste of the Wild. We'll be comparing one of each of their products to help you determine which is better suited to you and your pet.
Main Differences Between Natural Balance vs Taste of the Wild Dog Food
The main differences between Natural Balance vs Taste of the Wild Dog Food are:
The key ingredients in Natural Balance dog food are Turkey, Chickpeas, and Fish Oil, whereas Taste of the Wild dog food is Cage-free turkey, Lentils, and Sunflower Oil.
The protein content in Natural Balance dog food is 32%, whereas the protein content in Taste of the Wild dog food is 30%.
The average price per pound of Natural Balance dog food is $2.48, whereas the average price per pound of Taste of the Wild dog food is $4.00.
Brands and Products
This grain-free formula uses turkey as its key ingredient in addition to other sources of fiber. Grain-free pet foods are gaining in popularity as higher-quality nutrition.
Key Features
Turkey is the #1 ingredient
Grain-free recipe
No fillers and preservatives
Easily digestible formula
What We Like
The balance of nutrition and ingredients in this recipe is fantastic, as with any other L.I.D. variant.
Turkey L.I.D. has the added bonus of a high protein content. Limited Ingredient Diets Turkey has one of the highest protein contents of all comparable brands.
It's also super helpful to have the limited ingredients so you can pick and choose the food that works best for your dog's preferences and needs.
What We Don't Like
Natural Balance uses canola oil in its turkey recipe, which isn't ideal. While it is still up for debate, it has been suggested that canola oil may have long-term health effects on your dog.
Limited Ingredient Diets Turkey is an excellent option as a higher-quality food for a reasonable price. Like all L.I.D. options, it's particularly useful if you're seeking to alleviate food sensitivity in your dog. Limited Ingredient Diets Turkey is especially suited to bigger breeds thanks to the high protein content. Our Siberian Husky takes to it exceptionally well, and we've seen less shedding since we've started him on this diet. Our couch has never looked better!
Overall Rating: 4.1/5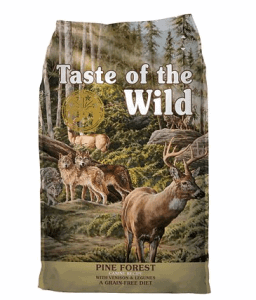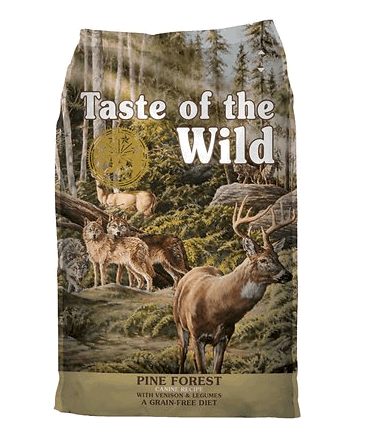 This simple but complete formula uses only high-quality, cage-free turkey and other premium ingredients.
Key Features
Uses only four ingredients: cage-free turkey, lentils, sunflower oil, and tomato pomace
Guaranteed 800 million units of probiotics/lb.
Grain-free recipe
Uses non-GMO products
What We Like
Right off the bat, we were blown away by the quality of ingredients used in PREY. We did a test with our Golden Ret, and the turkey meat, in particular, was well received.
Having the ingredients limited to four was encouraging when we were looking for content that would be good for her particular diet.
We also liked that Taste of the Wild used sunflower oil as their source of omega fatty acids.
What We Don't Like
PREY is VERY expensive, easily twice as much as Natural Balance. While the quality ingredients make up for the price, the cost might be too much for some. If you're eyeing Taste of the Wild but can't shake the sticker shock, you can opt for their standard variants, which are considerably cheaper.
If you truly value what your dog eats, you can't go wrong with Taste of the Wild PREY. Quality ingredients and the right formulation can make for really healthy dogs. The only thing that's stopping us is the steep price tag.
Overall Rating: 4.4 / 5
Product Category
What dog food brand you choose boils down to one question: "What do dogs actually need?" When considering this question, several questions come to mind.
Do you need dry or wet dog food?
Dog food comes in either wet or dry form. Both have their advantages and uses.
Dry food is a convenient way to feed your dog. It has a longer shelf life and is more nutritious since it's so compressed. The downside is that it's not that palatable and tends to contain preservatives and extenders.
Wet food, on the other hand, is fresher and contains a wider variety of ingredients. It also provides your dog with much-needed hydration. The problem? All that freshness makes for shorter shelf life and sloppier eating.
Does my dog need specific nutrition?
Just like a person, your dog needs an optimal amount of fats and proteins to thrive. The best nutrition to choose varies from breed to breed. Your dog might even have conditions, like allergies, that need to be considered.
We recommend checking with your veterinarian for the specific nutritional needs of your dog.
How much will it cost?
Cost is an essential factor in choosing food for our dogs. Food is only one part of our overall pet care budget. Sometimes, it makes sense to get something a little less expensive that's just as good.
Is it something your dog will like?
If your dog is notoriously picky, choosing a brand they will like is vital. After all, they won't benefit from it if they don't want to eat it!
Unfortunately, there is no easy way to find this out. Trial and error is still your primary method here unless your dog has specific brands or types he or she likes, but even that is not a sure indication—tastes do change.
Taste of the Wild Brand

Taste of the Wild operates on the principle that dogs should eat their natural diet. This, of course, means meat. The brand only uses the most natural animal sources for their meat and complements them with nutritious oils and vegetables.
But "simple" doesn't have to mean "deficient." Taste of the Wild includes probiotics in its dog food. This ensures proper digestion and more efficient absorption of nutrients.
Natural Balance Brand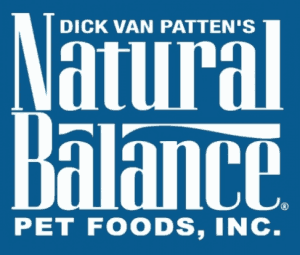 Natural Balance uses a scientific approach to formulate their dog food. They cater to a broader audience and a more comprehensive range of needs. (They even have vegetarian options!) Natural Balance tends to use less meat than other brands and is generally a more economical option.
Similarities/Differences
Natural Balance Limited Ingredient Diets
Natural Balance focuses on a more healthy combination of meat and other natural ingredients. Drawing on sound nutritional science, they came up with Limited Ingredient Diets (L.I.D.). L.I.D. is a line made specifically to combat food sensitivity in dogs.
Features of the Limited Ingredient Diets include the following:
Single Animal Protein Source – Each variant of their L.I.D. line uses only one type of animal meat. This limitation makes it easy for owners to pick specific food and avoid allergic reactions in their dogs.
Promotes Healthy Digestion – Natural Balance L.I.D. formulas are designed to aid digestion. This attention to a common issue can be a benefit if your dog frequently experiences irritable bowel syndrome or stomach pains.
Omega Fatty Acids – Fats are essential as they are a dog's first source of calories. Healthy oils also lead to healthier skin and a better-looking coat.
Taste of the Wild PREY
Taste of the Wild is made to mimic your dog's diet out in the wild. To this end, the brand focuses not only on quality meat but also sourcing. Their limited ingredient line, PREY, is based on the idea that the bulk of a dog's diet in the wild would come from hunting. The result is a simplified approach to dog food that promotes their natural eating patterns.
Features of PREY include the following:
Four Key Ingredients or Less – Each PREY food product uses a maximum of four ingredients. You know exactly what goes into your dog's food bowl. They do an excellent job of explaining each of these ingredients on their website.
Single-Cooked Meats – one unknown fact is that meat in dog food is usually cooked twice. Doing this destroys a big chunk of the nutrition in the meat. PREY uses only single-cooked meat to preserve all the nutrients.
Contains Probiotics – Each PREY variant includes a guaranteed number of probiotics. They help your dog digest the food and absorb nutrients more effectively.
Head-to-Head Comparison
Now's the good part. We're going to make a side-by-side comparison of the critical features of both PREY and L.I.D. These features include:
Key Ingredients
It's crucial to know not only what ingredients are in your dog's food but also where they come from. Natural sources are the best. It's also helpful if brands disclose what specific kinds of meat they use and don't report just "meat." Generic meat is usually a byproduct that isn't from ideal sources.
Nutritional Content
If you take the time to truly understand your dog's dietary needs, your buying process will be more straightforward. It pays to know your dog's proper macronutrient ratios.
Cost
Dog food can be expensive, especially if you choose the wrong one. Getting the right food for the right price is essential. It can free up your budget for other things your pet might need.
Feature Comparison
Natural Balance L.I.D.

Grain-Free Turkey

(Dry)

Taste of the Wild PREY

Turkey

(DRY)

Key Ingredients
Protein: Turkey

Other: Chickpeas, Peas

Other: Fish Oil

Protein: Cage-free Turkey

Other: Lentils, Tomato Pomace, Sunflower Oil

Nutritional Content
Protein: 32%

Fat: 14%

Fiber: 4.5%

Omega 6 Fatty Acids: 1.0%

Omega 3 Fatty Acids: 0.3%

Protein: 30%

Fat: 15%

Fiber: 5%

Omega 6 Fatty Acids: 2.5%

Omega 3 Fatty Acids: 0.5%

Average Price/lb.

(based on Amazon prices)

$2.48/lb.
$4.00/lb.
Final Thoughts
In the end, it's hard to compare Natural Balance vs. Taste of the Wild because, really, they are in totally different leagues. Taste of the Wild definitely wins in the quality department. They use premium ingredients that have positive benefits for your dog. It also helps that they have bonuses such as adding probiotics and other extra vitamins.
The only drawback to Taste of the Wild is the price tag, which is where Natural Balance excels. Their balanced nutrition does a pretty good job for food-sensitive dogs. If they're taking well to their Limited Ingredient Diet products, then Natural Balance is arguably the better choice.