Pet grooming is indeed serious business. While there are many pet parents who prefer grooming their pets at home, there are also several others who opt for professional services instead.
Usually, pet parents with funds at hand, but lacking time, go in for professional help when it comes to grooming their dogs. A professional pet groomer is generally associated with a pet shop, animal hospital, kennel, animal shelter or a veterinarian's office.
While dogs might be the most frequent to visit a professional groomer, there are many other pets that might require professional help.
A pet groomer can offer his services without a formal training under his belt. More than training, what matters in pet grooming is the amount of experience that a pet groomer has. The work profile of a pet groomer typically involves washing and grooming pets for different customers.
While there are some pet groomers that specialize in particular breeds, there can be other groomers known for their unique grooming styles as well.
A professional pet groomer must have his certification from the National Dog Groomers Association of America. Commonly referred to as the NDGAA, it offers certification that involves the two phases of National Certified Groomer and National Certified Master Groomer.
Along with written exams and practical grooming tests, the NDGAA also holds training workshops to teach prospective pet groomers specific skills for grooming short-legged terriers, long-legged terriers, sporting dogs and non-sporting dogs.
When looking for a professional pet groomer for your pet, also ensure that you opt for the one with proper NDGAA certification as well as hours of experience. Other organizations that offer certification to pet groomers in America are the International Society of Canine Cosmetologists and the International Professional Groomers. Among the various organizations offering certification for pet groomers in America, the NDGAA is probably the better known and a majority of pet groomers have the NDGAA certification.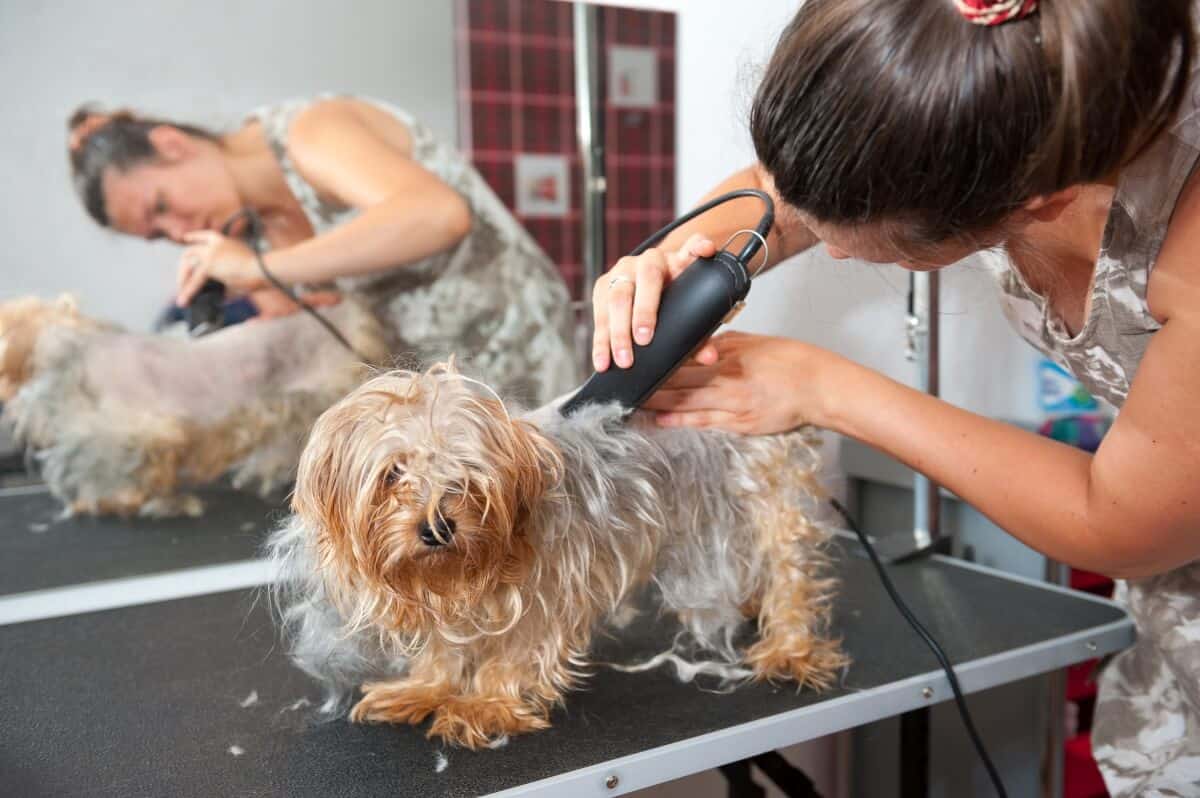 Services Provided by a Professional Pet Groomer
With several pet grooming schools operational across the country, there is no dearth of options for any person interested in becoming a pet groomer professionally. There are many schools that also offer online classes for students that are unable to attend regular classes for any reason.
A course at a pet grooming school usually covers topics such as – recognition of the breed and coat type, clipping of nails, first aid, safety, biology, cleaning of ears, grooming matted hair, anatomy, fluff drying. Certain schools also offer tutorials to create certain breed-specific patterns and haircuts.
While there are different kinds of pets that can avail the services of a professional pet groomer, cats and dogs are probably the most common visitors to such centres. Typically, services offered by pet grooming centres involve
1. Dog Grooming
Grooming for dogs involves services such as
Dog Bath & Brush
Dog Bath with Haircut
Dog Bath & Brush, with special treatment for reducing shedding
Puppy Bath & Brush
Puppy Bath with Haircut
Skin Solutions – for solving specific skin problems that your dog might have
Aromatherapy
Walk-in Services
Nail trimming
Nail grinding
Pedicure, or rather, Pawdicure
Sanitary trim
Anal gland cleaning
Ear cleaning or ear flushing
Face trim
Nose and pad cream
Puppy ear cleaning, hair removal and flushing
Teeth brushing and breath freshener
Fun and colorful styling options, such as
Chalking: temporary attractive color highlighting for your dog
Stenciling: a unique way for your pet to make a style statement is by having a stencil on his coat, something similar to a tattoo in humans
Feathering & Fur Extensions: use of natural feathers and fur extensions can greatly add to your dog's visual appeal
Nail polish & Stickers make a unique style statement
Jewels: placing glittering jewels on your dog's coat greatly adds to his appeal.
2. Cat grooming
Grooming for cats involves services such as:
Cat Bath & Brush
Cat Bath with Haircut
Kitten Bath & Brush
Kitten Bath with Haircut
Cat Bath & Brush, with special treatment for reducing shedding
Aromatherapy
Whitening & Brightening Shampoo
Top Cat: involves premium shampoo and conditioner, teeth brushing and many other services
Walk-in Services, such as:
Nail trimming
Nail trimming & Ear cleaning
Nail trimming, along with the application of nail caps
Ear cleaning
Sanitary trimming
In addition to the above-mentioned, professional grooming centres also offer services for other pets as well.
Selecting the Perfect Groomer
When it comes to selecting the perfect grooming services for your prized pet, do not take any shortcuts. Always research all the options at hand. Do keep the following in mind:
The number of years that a particular professional grooming service has been operational
User reviews, ask around your neighborhood
Complaint and response management, in the event that you are not satisfied with any service, make sure you have a fair idea of how do they handle complaints. Ask all the necessary questions before you entrust your pet to the professional groomers.
Selecting the perfect groomer for your dog takes a certain amount of time as well as patience. Rather than dealing with a botched-up service later on, it is better to select the proper groomer beforehand.
While special care and caution is required prior to getting an appointment with a professional groomer, even a simple walk-in cannot be taken lightly by a pet parent.
You can also check the credentials and read up actual user reviews online
Checklist For Your Pet
There are certain things to keep in mind when deciding upon professional grooming services for your dog.
The Do's
Make your dog accustomed to sounds commonly associated with grooming, such as, sounds usually made by hairdryers, electric razors, hoover or vacuum cleaner and electric brushes. Introducing him to such sound early on in life will ensure that the dog does not get apprehensive when he hears such sounds at the professional groomers later on.
Touch your dog often, especially his nails, belly area and legs. Getting used to touching in these sensitive areas greatly reduces the natural instinct of the dog to pull away on contact.
As early as possible, introduce your dog to a professional grooming salon. Even if not availing any services, just let him sniff around and get a hands-on experience so that when you actually do drop him in for any service, he is familiar with the surroundings.
Brush your dog regularly at home. This ensure optimal quality of your dog's coat, leading to lesser hassles at the groomer later on.
Check if all vaccinations have been given, for safety concerns.
Make a proper appointment before you turn up at the salon.
Be clear, When dropping off your dog at the groomers, discuss with the groomer as to what exactly do you have in mind. Vague statements can really affect the outcome, as while the groomer might have something in mind, you might be holding an entirely different mental image. Be clear at all times. Discuss everything, down to the smallest detail. In short, take your time.
Exchange contact numbers. Note down the groomer's number as well as give him your own, so that you can contact each other in the event of any unforeseen eventuality.
Brief the groomer about any medical condition(s) that your pet might have.
Always, take your dog to the toilet before handing him over to the groomer.
The Don'ts
Never ask someone else to drop your pet to the salon, unless they have been given clear and specific instructions about the grooming to be done. Any ambiguity here can lead to wrong instructions being relayed on to the groomer.
Do not feed your dog prior to the groomer's appointment as this can cause unpleasant visits to the toilet at the salon.
Make it a point to never cancel an appointment at the last moment. If you do have to cancel, make sure you intimate the groomer well in advance so that the slot can be allotted to someone else.
Do not have unrealistic expectations. Many pet parents get pictures of show dogs to give an idea to their groomer of the look that they want their pet to have, without realizing how much work goes into making a dog a show dog. A look got about by premium products and lavish lifestyle cannot be imitated in a matter of more hours.
Never fuss over your dog when you drop him off. Just hand him over, pet him goodbye, discuss the time for collection, and walk out the door. Any unnecessary fussing and pep talk will only make your dog anxious.
Do not leave your dog at the groomer's for longer than required.
Never try trimming your pet at home and not tell the groomer about it.
Keeping all these in mind will make your experience with a professional groomer go smoothly and without any unnecessary hassles.
Asking the Right Questions
Usually, queries from pet parents, when considering a professional grooming centre for their pet, shuttle between "How much do you charge?" and "When can you do it?".
While asking these two questions is understandable, there are other queries that ought to be put up as well:
How much experience do you have?
Do you have proper certification?
From where did you learn to groom?
Do you have any specializations?
What is the time duration that you usually keep a pet for?
Where are the pets kept?
Are the pets always in view of someone?
Does your grooming centre have regular inspections?
Are the pets groomed while their owner is also in the room?
Do you have any experience grooming my dog's breed?
Always ask in case of doubts. Rather than coming to terms with a bad haircut or botched-up service later on, it is better to get all your facts clear at the very beginning.
Final thought
For a conscientious pet parent, it is quite unnerving to leave your pet at a professional grooming centre for the first time. When it comes to your pet, always ask more questions than necessary.
Do proper research. Check and read write-ups online, as well as ask around your neighborhood, before you settle on any particular groomer as such.
Make sure that you know if the centre has certification from either National Dog Groomers Association of America (NDGAA), the International Professional Groomers or the International Society of Canine Cosmetologists. Certification is vital.
While there may be many alluring centres offering a vast range of services at attractive rates, always opt for the one with proper certification. In addition to grooming centres across the street or round the corner, there are also many Mobile Grooming centres operational as well. In such mobile centres also, certification should be the deciding point for a pet parent.
Happy grooming!