Imagine going into a restaurant only to be told that you had no choice in the dish you would be served. Furthermore, even if you didn't like it, you would need to take that dish home and continue to eat it for every meal for the foreseeable future. Sounds grim right?
If you wouldn't like this, why do it to your dog? Just like their human owners, different dogs have different tastes, preferences, and favorites. To help you pick from a varied choice, we have compiled a comprehensive list of the best Halo dog food reviews to provide your pooch the delicious diet they are craving!
Top Pick
If you don't have time to stick with us to the end, the most popular Halo product is their Halo Natural Dry Dog Food, Chicken & Chicken Liver Recipe. It's going to work well for most dogs. We've reviewed it first for your convenience. However, they also offer variations on this formula for small and large breeds, so if either applies, you might consider those too.
HaloDog Food Reviews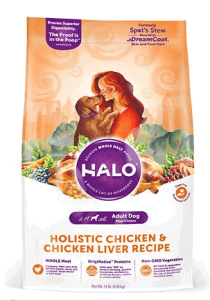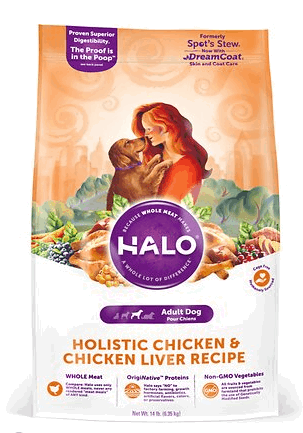 Dry dog food can be an excellent choice for your dog's meal, but it can sometimes be tricky to find one which is well balanced and offers holistic nutrition for your pooch.
Key Features
Added vitamins and supplements
Only real, whole meat is used
Easy to digest
Includes Omega-3 and -6 to boost skin and coat health
Solely produced by responsible farmers and ranchers
What I Like
The inclusion of many many vitamins and minerals is a big boost for this food, and I am also a big fan of their commitment to responsible sourcing of all ingredients and production processes. The attention to creating a digestible formula is also crucial for keeping everything running smoothly.
What I Don't Like
The taste of this product is quite strong and distinctive, and this may be off-putting for some dogs. A gradual introduction is probably the best course as they get used to the new flavors and smells.
Pros
Includes Vitamin E, Omega-3 and -6 to promote a healthy coat and skin, muscles, and high energy levels
Easy to digest with bioavailable nutrients
Only real chicken is used – no 'meat meal.'
Also includes oatmeal, pearled barley, and non-GMO fruits and vegetables
Commitment to responsible animal husbandry
Cons
Very strong taste thanks to the inclusion of real meat
Can work out as quite expensive compared to other brands
This formula is a great natural option for owners looking to make some change to their dog's diet, but just be aware that the strong taste may be off-putting for some pooches.
Overall Rating: 7/10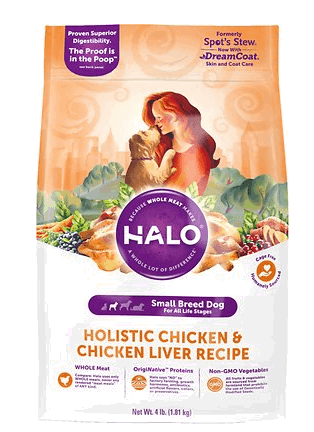 With real, whole meat, poultry, Halo offers a tremendous nutritional treat for your dog, which has benefits even for smaller breeds. Their adaptations for smaller breeds include smaller kibble sizes, plenty of protein, and fatty acids to boost skin health.
Key Features
Only whole chicken used – no 'rendered' meat
Very digestible recipes, perfect for smaller dogs
Includes grains and non-GMO vegetables for extra nutrition
The kibble is smaller – ideal for smaller mouths
Responsible sourcing
What I Like
Everything about this product is specially designed and adapted for smaller dogs, right down to the nutrient-rich, smaller kibble pieces which are easier for tiny mouths to enjoy. In addition, small dogs have smaller digestive tracts and higher metabolisms, and this food is specially formulated for these needs.
What I Don't Like
One issue with the recipe is the inclusion of soy, and this is a major allergen for many dogs.
Pros
Specially designed for smaller dogs, right down to the size of the kibble
Includes fatty acids for healthy skin and coat
Lots of good quality protein to help build strong muscles
Only genuine, whole meat is included
Cons
Contains soy which can be a significant allergen
This food is a fantastic choice for smaller dogs and is designed and formulated for the tiny digestive systems and mouths of these breeds. It is important to double check your dog doesn't have a soy allergy before feeding, however.
Overall Rating: 9/10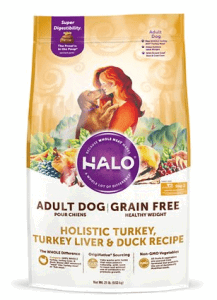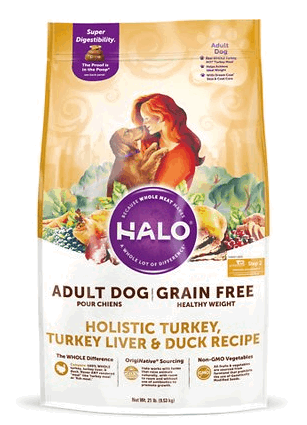 Maintaining a healthy, balanced weight is vital for any dog, and it can be hard to find a tasty and delicious option which also allows for calorie control and full nutritional benefits. This Halo offering manages to do both in one package.
Key Features
Reduced calories for easier weight management
Real, whole ingredients to help your dog feel full
Packed with vitamins and supplements for optimum health
Lots of fiber to help your dog feel satisfied
What I Like
This product combines the nutrition needed for a healthy pooch with a controlled number of calories to help keep weight under control. The added supplements mean you can feel confident that your dog is receiving a balance of everything they need to stay healthy, all while keeping their weight under control.
What I Don't Like
This formula seems to be the worst option for dogs with sensitive stomachs and has resulted in gas, bloating, and diarrhea on several occasions. This issue may just be a reaction to a change in diet but is uncomfortable for dogs.
Pros
Reduced number of calories allow for easier maintenance of your dog's weight
Whole meats only – this allows your dog to remain full for longer
Grain-free – ideal for those with allergies or intolerances
Includes vitamins and minerals to boost and target every area, from digestion to skin
Cons
Seems to have an adverse reaction in some dogs
Very expensive compared to competitors
This is an excellent option for those looking to control their dog's weight, but make sure they are totally happy with the food before you commit—some canines can't digest the formula, leading to an upset tummy.
Overall Rating: 7/10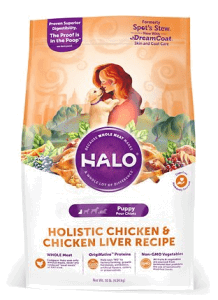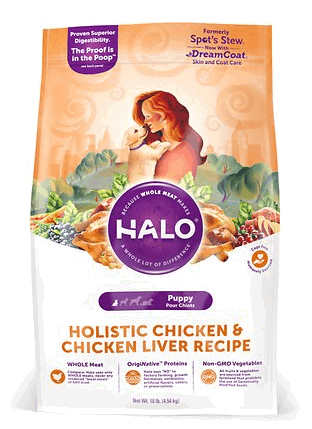 Puppies are super busy and have to spend a lot of time and energy on crucial tasks such as chewing, playing, and growing. It is important that they have food that provides the energy for them to carry out these vital tasks, and well as supporting and encouraging healthy growth and development.
Key Features
Specially formulated to support growing puppies
Contains Vitamin E to boost healthy skin and fur
Omega-3 and -6 fatty acids help encourage growth
No synthetic ingredients or cheap fillers
What I Like
Getting the right formula for your puppy is so important, and this offering from Halo does a great job in creating a balance of tasty food and essential nutrients. Puppies grow a lot in their first few months of life, and my favorite aspect of this food is that it is designed to facilitate this, keeping tiny tummies full and contented while offering a range of health benefits.
What I Don't Like
The main issue with this product is the inclusion of soy—this is a common allergen for many puppies. Check very carefully before offering this food, as a soy allergy can have dangerous consequences. In addition, this can be a tricky product to get hold of—not ideal if your pup picks it as his favorite!
Pros
Targets every aspect of puppy health, including eyesight, fur, and digestive system
Uses whole chicken and chicken liver – no nasty surprises or ingredients
Contains protein for healthy muscle development
Packed with healthy fats which are necessary for energy to keep playing
Plenty of antioxidants, vitamins, and minerals for a growing immune system
Cons
Contains soy – a common allergen
Hard to source the product
Not really suitable for large breed puppies
This option has a lot going for it, but the inclusion of soy is disappointing and limits the suitability of the food for a considerable range of puppies. Large breed puppies will also benefit more from a formula specifically for large dogs.
Overall Rating: 6/10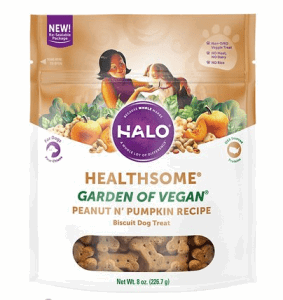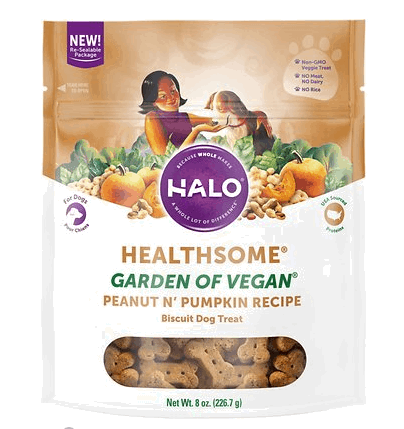 When considering treats for your dog, it is important to make sure you are making healthy choices to give them the best nutrition and benefits. This means they can enjoy being spoiled rotten, safe in the knowledge that they are still in tip-top health.
Key Features
No artificial colors or flavors
Natural baked for optimum flavor and health
Contains peanuts and pumpkins
Grain-free
Low in fat for easy maintenance of your dog's weight
What I Like
It is nice to have an option for treating your dog, which is healthy and nutritious. This can be a great addition to training, an extra treat for good behavior, or an occasional addition to your pooch's diet.
What I Don't Like
These treats tend to be very crumbly, and it can feel as though you are spending a lot of money for very little product.
Pros
A healthy alternative to other treats
Peanuts and pumpkins add a tasty flavor your dogs will love
Includes fruits and vegetables
Support responsible animal husbandry
No GMO ingredients
Low fat, no cereals or gluten
Cons
Very hard and crumbly – some dogs may not enjoy this
The food is no longer produced in the USA, which calls the process into question
These treats are a solid alternative to heavily processed and fatty options and can provide a nice incentive for your dog to carry on good behavior. Be aware, however, that this food is no longer made in the USA, so there may be some changes to ingredients, processes, and requirements.
Overall Rating: 6/10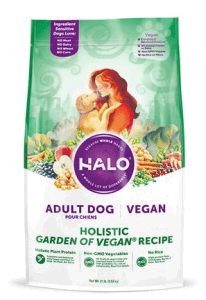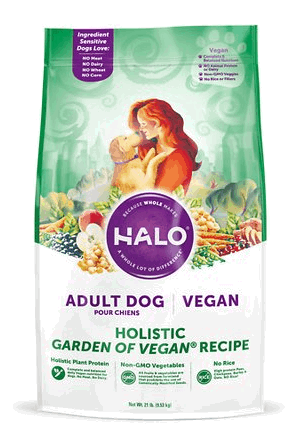 There is a lot of research on the benefits of veganism for humans, so it is great to have the chance to pass this onto your pet. This vegan option offers a full, balanced diet for your dog with plenty of vitamins and minerals in a delicious meat-free recipe.
Key Features
Plant-based ingredients which nourish and nurture your pet
No meat, dairy, corn, or wheat
No GMO ingredients, artificial preservatives, flavors or colors
Great for dogs who are sensitive to animal proteins
What I Like
It is hard to find a great vegan option which dogs will also enjoy the taste of, but Halo has managed to do both in this offering. If your dog has a sensitivity to animal proteins, or you wish to transition both of you to a vegan diet, this could be a great option to choose.
What I Don't Like
The smell of this food is quite overpowering, especially if you are new to vegan dog foods. This could be off-putting to your pet, and they could take a while to switch over to the new product.
Pros
Includes all the nutrients and vitamins your dog needs to stay healthy
No meat – this is an entirely plant-based recipe
Good plant-based protein sources to build muscle and strength
No dairy, corn, or wheat – great for dogs with allergies
Cons
Strong smell
Quite a lot of salt is included in the recipe
This could be a great place to start if you are considering switching your dog to a vegan-based diet, as it offers a total nutritional balance and everything they need to stay in the best condition.
Overall Rating: 8/10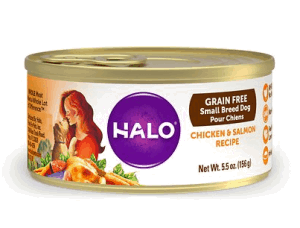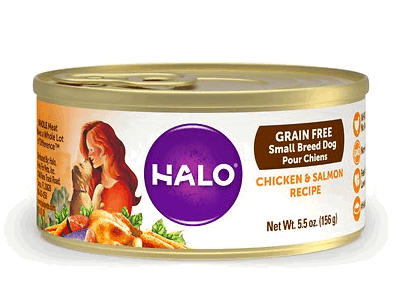 Dry food is often the most popular choice in dog food, but wet food has a valuable place within the canine diet. The wet food range from Halo offers the same top quality as the dry kibble.
Key Features
Specially formulated for smaller breeds
Uses whole meat, no cheap fillers
Easy to digest
Includes lots of proteins, vitamins, and minerals for optimum health
What I Like
Small dogs come with their own unique needs and challenges, and it is fantastic to have a natural recipe which caters for this.
What I Don't Like
The texture of this food can be dry compared to other tinned wet foods, and this can make it far less appealing for hungry dogs.
Pros
Easy to digest for more sensitive small dog stomachs
Contains antioxidants to keep skin and coat healthy
Plenty of vitamins and minerals to keep every aspect of your dog healthy
Specially created for small dogs and their unique systems
Cons
Some batches are very dry
This is definitely an option for wet food if you are looking for a recipe which is natural and beneficial for your smaller breed.
Overall Rating: 8/10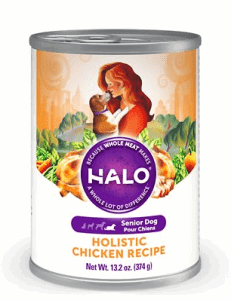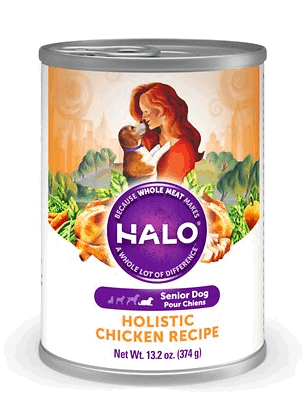 As your dog ages, their dietary needs and requirements tend to change, and this senior specialty from Halo is designed to reflect this.
Key Features
Specially formulated for older dogs
Very easy to digest
Used whole beef
Non-GMO Veggies
High-quality protein
What I Like
Older dogs need extra support and assistance to help keep them healthy, and this is a comprehensive food choice that offers the benefits of natural ingredients with a delicious taste.
What I Don't Like
The only real issue occurs if your older dog is still quite active—in this case, you may need to feed in higher quantities as this food has a reduced number of calories.
Pros
Uses whole beef for a better taste
High-quality protein to support lean body mass
Reduced number of calories to support a less active lifestyle
High fiber for easy digestion
Cons
Low-calorie content may not be ideal for more active older dogs
This option is perfect if you need a more natural, no-allergy food for your older dog. It keeps them in healthy and top condition even as they start to slow down, and offers benefits for all parts of the body.
Overall Rating: 9/10
About the Brand
As we can see in all of our Halo dog food reviews, 'natural' is the keyword associated with Halo. All of the ingredients in their products are natural, with non-GMO veggies, no added flavors or colors, and no nasty preservatives. This food more closely resembles a natural doggy diet, and so offers the nutrients and benefits which your dog's body needs.

The lack of additives and artificial substances also means there is a lower chance that your dog will be allergic to the ingredients, and so these can be a huge help if your pet has a sensitive stomach or reactions to different recipes and food items.
Final Thoughts
The pinnacle of our Halo dog food reviews is the Natural Dry Dog Food, Chicken & Chicken Liver Recipe. This uses real meats—genuine chicken and chicken liver—to offer a healthier option for your dog's dinner.
Specially designed to be easily digested, the balanced nutrition and unique composition mean that your pet will be performing at their very best potential, and you can rest assured in the knowledge that their diet is the base of glowing, good health.
Do check out our review of Blue Buffalo Wilderness.