When I got my first dog, he would often get sick, subjecting us to endless trips to the vet. I empathized with him, knowing that it must be worse for him than it was for me. I soon discovered many of his problems came from his diet and, more so, the ingredients in certain brands of dog food.
So, toward the end of last year, as he was turning 2, I decided to go back to one of the two brands that had worked well for him, and I had to choose: Blue Buffalo vs. Wellness. I put together this comparison review to help me make a decision.
Main Differences Between Blue Buffalo vs Wellness Dog Food
The main differences between Blue Buffalo vs Wellness Dog Food are:
The main ingredient in Blue Buffalo dog food is Deboned Chicken and Brown Rice, whereas the main ingredient in Wellness dog food is Deboned Chicken and Oatmeal.
The protein content in Blue Buffalo dog food is 40.4%, whereas the protein content in Wellness dog food is 40.2%.
The fiber content in Blue Buffalo is 7.5%, whereas the fiber content in Wellness dog food is 5.6%.
Brands and Products
I've reviewed their most popular product, the Wellness Complete Health dry food, below.
Available in packages of 5, 15, and 30 pounds, this is one of the most highly recommended balanced diets for dogs. My dog loves it for its great taste, too!
Key Features
Provides a balanced diet for your dog
Delivers a low-calorie content to help keep your dog's weight in check
It is a natural product with no additives
Who Is This Product For?
This particular dog food is suited to any dog that needs a balanced diet designed to maintain a healthy weight.
What I Like/Don't Like
Wellness, true to their mission statement, crafted a well-balanced, nutrient-rich formula with their Complete Health line. They guarantee the Omega-3 and fatty acid content of this food, and it is fortified to support the five signs of a healthy dog—energy, immunity, digestive health, healthy skin, and strong teeth, bones, and eyes.
Unfortunately, they also use some controversial ingredients such as tomato pomace, which is considered by some to be a filler, and garlic powder, which is suggested to have a link to Heinz body anemia in dogs. However, these ingredients are only present in very small amounts.
Pros
Guaranteed levels of Omega-3 and fatty acids
Supports a healthy immune system
Contains no soy, corn, wheat, meat by-products, or artificial preservatives
Delivers a low-calorie diet that helps keep your dog from becoming overweight
Cons
Use of some controversial ingredients such as garlic powder
Wellness Complete Health dog food is a versatile option that meets the needs of a variety of breeds, life stages, and dog sizes—plus they seem to like the taste.
Overall Rating: 8.6/10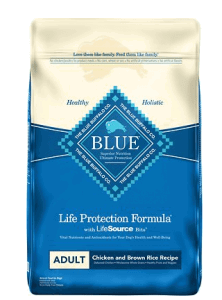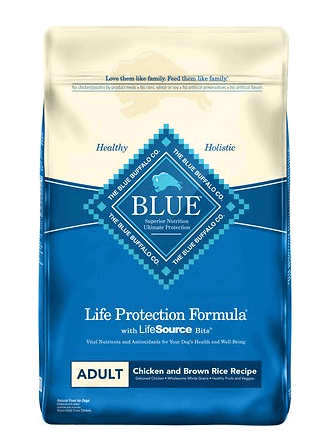 A sumptuous meal that is any dog's delight, this is a creative curation of ingredients – starting with real meat – that meet the needs of virtually every adult dog out there.
Key Blue Buffalo Features
Manufactured using real meat
Uses antioxidants to boost your dog's health
Suits the energy needs of adult dogs
Who Is This Product For?
This product by Blue Buffalo is a perfect option if you're looking for a meal plan that meets your adult dog's energy needs. The Life Protection line does also feature products for puppies, seniors, overweight dogs, and more, though.
What I Like/Don't Like
Blue Buffalo Life Protection lists real meat from named sources as their first ingredient, seconded by complex, wheat-free carbs from brown rice, barley, and oatmeal to provide a healthy source of energy and fiber. The exclusive Life Bites blend included antioxidants, vitamins, and minerals to meet your dog's life stage, support immune health, and reduce oxidative stress.
However, they also use controversial ingredients, including often-thought filler ingredients tomato pomace and alfalfa meal as well as the before-mentioned garlic powder. Blue Buffalo also uses dried yeast, which can be an allergy risk for some dogs.
Pros
Meat is the first ingredient
Utilizes healthy complex carbs, such as brown rice
No wheat, corn, soy, meat by-products or artificial flavors
Available in 3 to 30-pound bags
Cons
Includes some controversial ingredients
May pose a small allergy risk (dried yeast)
This diet is best for adult dogs that have high energy demands and aren't prone to allergies.
Overall Rating: 8.2/10
Product Category
Blue Buffalo and Wellness are both top dog food brands. These two companies do an excellent job of carefully curating meals that help keep your best friend well-nourished. They contribute positively to your dog's ability to grow up and remain healthy.
Experts suggest several criteria for choosing the type of food to feed your dog. As a dog owner, I have combined some of these suggestions to create my overall standards. The same might help you, too. Here are what I have identified as some of the most critical characteristics of healthy dog food:
Preservatives
Buying dog food in bulk is always an efficient option, but it's important to know what preservatives the food contains. When I buy food for my dog, I am more interested in dog food that contains natural preservatives, such as ascorbic acid (Vitamin C) or tocopherols. These types of preservatives are less likely to have adverse effects on your dog's health as are artificial preservatives.
Oils and Fats
Most people believe that oils and fats are harmful to dogs. Research indicates that it is true, but only if you feed it to your dog in large volumes. Including oils and fats as part of your dog's meal also has benefits, including making your dog's coat shiny. They also are essential to provide your dog with energy and encourage efficient nutrient absorption. I recommend a dog food that contains healthy Omega-3 and -6 essential fatty acids.
Proteins
Proteins are an essential part of any healthy dog food. I recommend reading dog-food ingredient labels with a critical eye. The protein content must be in synch with your dog's particular needs. Your vet can help you identify those needs based on your animal's age, size, and health conditions.
Similarities and Differences
Like any competitive company in this industry, Wellness and Blue Buffalo have done their fair share of work to differentiate themselves from the pack. Even so, their products are similar in a couple of crucial ways, including:
Range of foods – Both companies have a vast line of products that cater to dogs of all ages and sizes.
Use of natural ingredients – Both companies have ensured that all the ingredients they use in their dog foods are natural.
The real distinguishing characteristics of Wellness vs. Blue Buffalo dog foods are:
Blue Buffalo caters to your pet's health conditions
Compared to Wellness and, for that matter, any other dog-food brand, this company's line of BLUE Natural Veterinary Diet Products sets it apart from the competition. You can only purchase these products with your vet's recommendation, as they are suited to address the particular health conditions your dog experiences.
Wellness makes every meal count
Wellness Dog Food aims to make every meal count. To do this, it developed four distinct lines of dog food that meet the particular needs of any dog. With Wellness products, you can match your dog's needs directly to the specific products that help your pet achieve its best possible health. What's more, the broad spectrum of foods in its line allows you to experiment with different types to find the perfect fit.
Head-to-Head Comparison
The head-to-head comparison of Blue Buffalo vs. Wellness is well-represented using a comparison table. This scoring process brings to the fore some of the predominant differences between the two brands:
| | | |
| --- | --- | --- |
| Wet Food | Wellness | Blue Buffalo |
| Crude Protein | 40.2% | 40.4% |
| Crude Fat | 23.9% | 25.2% |
| Crude Fiber | 5.6% | 7.5% |
| | | |
| --- | --- | --- |
| Dry Food | Wellness | Blue Buffalo |
| Crude Protein | 32.6% | 28.5% |
| Crude Fat | 15.6% | 15.0% |
| Crude Fiber | 5.7% | 7.1% |
Wet Food
When it comes to wet food, Blue Buffalo tops the list, with excellent scores for fat and fiber content – and the 0.2% difference in protein content is negligible.
Dry Food
On the flip side, with dry food, you'll find significant differences. Wellness takes the prize when it comes to protein content, at 32.6%, compared to Blue Buffalo's 28.5%. Wellness also leads in terms of fat content, but Blue Buffalo contains more fiber in its dry food.
Wellness Dog Food Brand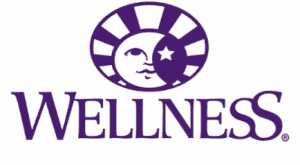 Wellness Dog Food is a dedicated animal-food company that avails up to four product lines to its customers. This brand continues to do quite well in market positioning – despite five recalls and controversies about the use of filler products, including brewer's rice.
Blue Buffalo Dog Food Brand
Blue Buffalo is a revolutionary brand in the dog-food industry. It is focused on delivering food for all types of dogs. That includes its innovative BLUE Natural Veterinary Diet products for dogs with health conditions. Nonetheless, Blue Buffalo has undergone its fair share of criticism for the use of controversial ingredients – and has been rocked by nine recalls.
Final Thoughts
Blue Buffalo and Wellness both utilize high-quality ingredients with a balanced formula of real meat, vegetables, and healthy carbohydrate sources. Both also have had recalls in the past and use some controversial ingredients. The decision about which brand to buy will really boil down to what works best for your dog.
If you still don't have a preferred starting brand after reading this comparison review, you could start with a small bag of each, let your pooch pick a winner and see how it goes.