Every dog has his day – and every dog breed has an ideal food. What's good for the tiny pocket Chihuahua down the street may not be suitable for the Great Dane a block over, and it's important for your furry family members that they're getting the food that's best for their particular needs.
For a Great Pyrenees, you'll want to make sure that you're getting the best food for them throughout their life, which changes as they grow. The market for these specialized foods has boomed in recent years, and it can be overwhelming to try to figure out what food is best for your dog.
We've looked at some of the options out there for the best dog food for the Great Pyrenees breed and have selected some that would be great ideas for you and your family.
OUR TOP PICK
Taste of the Wild Sierra Mountain Grain-Free dry food
is our top pick for this large, friendly breed, with a decent price tag giving you a lot of bang for your buck. This is the best food for Great Pyrenees due to its high fat and nutrient content, giving your dog lots of nutrition with minimal filler.
The Best Food for Great Pyrenees Reviews…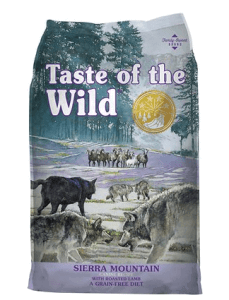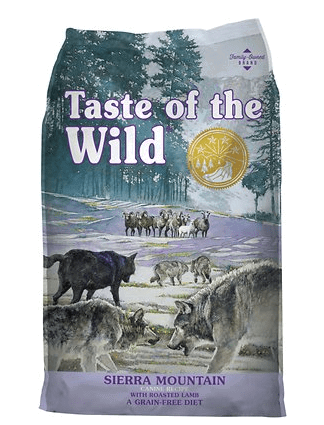 Taste of the Wild Sierra Mountain Grain-Free dry food, as mentioned previously, is our top pick. It's a massively popular brand and style of food for this breed as well, so it's available both online and at many stores. While a few brands clock in at a lower price, it comes in at a much cheaper cost per pound than most other options.
Features
Probiotics
Nutrient-Dense
Cost-Effective
Good for multiple age ranges
This dog typically eats as much as an adult human male, so you want to make sure that you're getting a good bang for your buck with it. Fortunately, this brand is very cost-effective, not only in its pricing but in its use of probiotics, which allows your dog to get more from each meal.
The ethical and transparent sourcing of ingredients for its formula also helps many customers feel more comfortable feeding this to their dogs. While it is our top choice and a great deal, it's not directly formulated for this breed or those of similar size, so you may find that you're happier with a brand that directly markets and formulates more specifically towards it, especially if you're dealing with a dog with health issues.
Pros
Cost-effective
Nutrient-dense
Probiotics
Transparent ingredient sourcing
Popular among customers who own this breed
Cons
Not created directly for this breed
Not as good for puppies
This brand is a well-rounded winner that many customers, dogs, and vets are extremely happy with, which is why it's our top pick for brands to feed your Great Pyrenees.
Overall rating: 4.9 of 5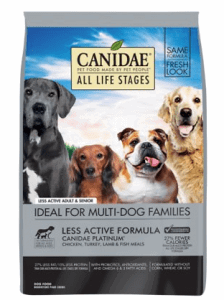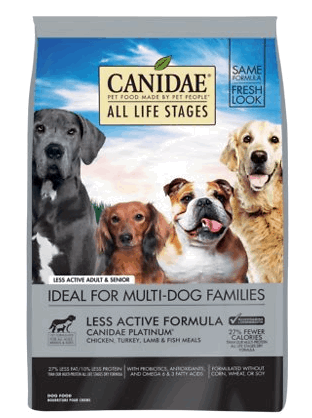 Canidae All Life Stages Less Active Formula dry food is a close second to Taste of the Wild due to its similar price and nutrients that will benefit your Great Pyrenees. The brand's food is formulated to be suitable for households with all sizes, ages, and breeds of dog, so while it's not specially formulated for Great Pyrenees or larger dogs, it will still benefit them with a nutrient-dense bowl of food.
Since it's made for all ages of dog, it will help keep things simple, without requiring reformulating the dog's diet as they age.
Features
Wide range of dogs it can be fed to – great for multiple-dog households
Nutrient-dense
Allergen-free
Contains antioxidants, fatty acids, and probiotics
This brand is an excellent choice for an owner who wants to feed their dog high-quality, well-priced food that will be safe for their Great Pyrenees – and any of their other dogs – to be able to eat for their whole adult life.
It's not directly formulated for Great Pyrenees, so you may find better particular effects from brands that are more formulated explicitly for them, but if you're looking for a solid food your dogs are nearly entirely sure to love and will be safe eating, this brand should absolutely be one of your top contenders.
Pros
Nutrient-dense
Allergen-free
Great for multi-dog households
No need to change foods as the dog gets older
Cons
Not explicitly made for the breed
Not grain-free
Canidae All Life Stages Less Active Formula is an excellent choice for any Great Pyrenees owner, and should definitely be considered when you're transitioning your dog to a new food.
Overall rating: 4.1 of 5
Nutro Wholesome Essentials is a favorite brand for many owners of older Great Pyrenees – the clean, transparently-sourced food is packed with nutrients targeted explicitly towards making sure your older dog stays happy and healthy both mentally and physically.
The brand is specifically certified as non-GMO, so you can be sure that you're providing your dog with the highest quality, cleanest food available in their golden years.
Features
Non-GMO
Lamb-based
Highly rated for older dogs
This food is an excellent choice for any owner who has noticed the effects of their dog getting older. You can be sure that it will support their physical and cognitive health. This food sources all of their ingredients very carefully, so you can know what you're feeding your dog and feel good about its quality.
It's also a good deal for what you get for it, as many specially formulated breeds will creep up in the price range. However, if your dog is aging well, it may not be worth it to switch over to a new brand of food from what they're used to if they're being served well by it.
Pros
Non-GMO
Specific nutrients to help with older dogs' health
Good for households with multiple older dogs
If your dog is starting to show signs of aging, this would be an excellent choice to make sure they stay in top shape throughout their senior years.
Overall rating: 4.5 of 5
Pro Plan Puppy from pet-food powerhouse Purina ranks as our best puppy food for Great Pyrenees. With tons of nutrients to support healthy growth, healthy skin, a healthy coat, and healthy bones to propel it forward into adulthood. The chicken-based formula is sure to be loved by your puppy, and the nutrient-packed dish will help make sure he can grow to his full size and strength.
Features
Specifically for puppies
Added nutrients
Suitable for up to one year in age
This puppy formula is the best you can find for your Great Pyrenees Puppy, with real meat as the first ingredient and the only unfamiliar-looking ingredients being a ton of added nutrients to help with your dog's mental and physical health and growth.
Made without grains, wheat, corn, or soy, it's full of nutrients and no filler. Unfortunately, it's only formulated for dogs up to one year old, so like with most puppy food, you'll have to switch after a short while.
Pros
Added nutrients to help with growth
Real meat base
Allergen and grain free
Cons
Will need to transition off of the food within a few months
This brand and formula are loved by many puppies and owners alike, and if you're looking to welcome a new young Great Pyrenees into your home, this brand is sure to be to both your and their tastes with an affordable price tag, high quality, and great taste. Given the size of the supplier, you're sure to be able to find this product almost anywhere, so you don't have to worry about its availability.
Overall rating: 4.5 of 5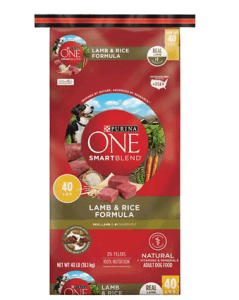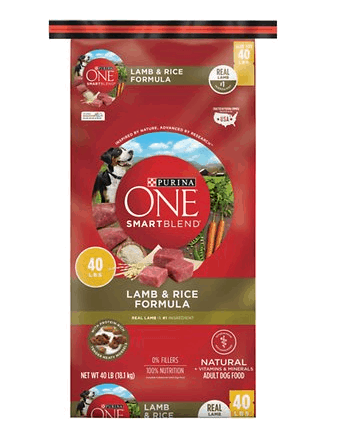 If you're a fan of both Purina and Great Pyrenees, you're in luck – Purina makes excellent adult food for this breed as well with the Purina One Smartblend Natural Lamb and Rice Formula. One of the more affordable choices on the market, this formulation is lamb-based and packed with nutrients that will be both excellent and tasty for your dog. Specifically formulated to help with antioxidant levels and healthy joints, this food is great for this breed.
Features
Lamb-based
Not corn/grain-free
Purina has maintained its reputation as a powerhouse brand for a reason— this food is an excellent example of that. It will be perfect for adult Great Pyrenees dogs as its formula helps support healthy skin, coat, and digestion.
The food is excellent for the breed with its relatively high caloric content, natural ingredients, and added nutrients. However, it is only for adults, not puppies or seniors, so you may need to switch your dogs on and off this as they age.
Pros
Meat-based
Easily accessible in stores and online
Added nutrients
Cons
Not allergen-free
Only for one age range
This is a fantastic dry adult food for a Great Pyrenees that won't cost too much, especially if they are particularly active. Given all of the nutrients in the formulation, you're getting a lot of value for your money with this choice. However, if your dog has any health issues or is getting older, you may want to go for a dog food that specifies that it is formulated for use across all age ranges.
Overall rating: 4.4 of 5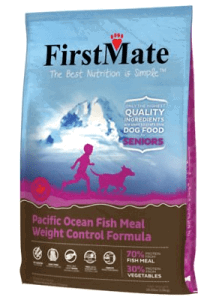 FirstMate Pacific Ocean Fish Meal Weight Control Senior Formula is a great choice for Great Pyrenees owners looking for dry food for a dog who is older, overweight, or sensitive to allergens. With its carefully formulated recipe, this food is easy on the dog's stomach, providing a lot of nutrients without being too heavy or too harsh when it has needs that aren't met by more normal brands or formulations of dog food.
Features
Allergen-free
Good for overweight dogs
Good for senior dogs
Fish-based
This food is solely fish-based, with additives to ensure that it isn't rough on a dog with a particularly sensitive stomach. Made to aid in joint health as well as general health and nutrition, it's a well-rounded food that will provide proper nutrition for a dog that has more specific needs.
However, because of this, it is much pricier and is a slightly lower protein percentage than many other brands on the market.
Pros
Allergen-free
Nutritional despite being a weight-loss food
Cons
High price
Lower protein not as good for younger dogs/adults
This is a food that is more targeted toward a specific demographic of dogs with certain dietary needs, but for that demographic, it's the best around. This dog food is tasty as well as checking off all the boxes of what good dog food should have, all while being allergen-free and excellent for older dogs or ones that need some weight intervention.
Overall rating: 4.6 of 5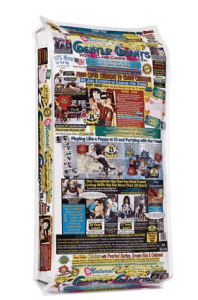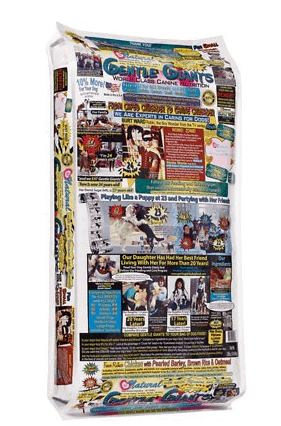 Gentle Giants Canine Nutrition is a food that gives you a lot of bang for your buck. One of the cheapest foods out there that's also excellent for a Great Pyrenees, this food still has a great number of nutrients packed in it.
With chicken, rice, oatmeal, fruits, and vegetables mixed into its formulation, it's balanced, great for dogs across a range of ages and dietary needs, and is specially made to be able to help with health and digestion.
Features
Non-GMO
Affordable
All-natural
This is a fantastic and affordable food for Great Pyrenees owners who are looking for a dog food that can satisfy and support at a decent price. It's got a lot of natural ingredients as well as additions that will help with your dog's coat, skin, and digestion, and especially with these active dogs, having food that you can afford to fill them up with is a huge plus.
However, it's not allergen-free, and you may need to be careful if your dog has a bit more of a sensitive stomach. For adults who have no other health issues, however, this is an excellent choice.
Pros
Affordable
Chicken-based
Non-GMO fruit and vegetables
This is a solid choice for any dog owner where the dog is threatening to eat you out of house and home. A good, affordable food, it's both a wallet- and puppy-pleaser. With good taste, nutrients, and price, it's a hard one to beat.
Overall rating: 4.3 of 5
Buying and Feeding Guide
Each dog's tastes and needs are different, so you're going to need to pay attention to the particulars of what your dog reacts well to and likes or doesn't like. Ultimately, that's what will signal you as to whether you've found the best food to continue with.
For puppies, in general, you want to focus on food that will support their immune system. The best food for Great Pyrenees puppies will have DHA. Puppies of this breed should also be fed at least twice a day – it's a large breed, so they may well need more food than you're giving them at first. Make sure you're paying attention to its cues.
For adults brands targeting large dogs will generally be the best as large and small dog have very different caloric and health needs. You want to especially look for ones that have fatty acids such as omega-3s as well as glucosamine and chondroitin for their joints and overall health.
These ingredients will keep most health issues at bay, though you'll still want to check in with your vet as to how the dog is doing as there are some genetic risks for this breed. Proper nutrition will give your dog a healthy base to work off of as it gets older, which is highly essential, especially for giant breeds such as Great Pyrenees.
These dogs eat a lot – a bit over 2,000 calories, or as much as an adult male human should be eating – so you want to be smart in what you're purchasing. Firstly, you're buying a lot of food – make sure you're getting the most bang for your buck. Not all the great brands are expensive, and you don't want to be overpaying, especially when you're buying that much food.
Secondly, while they are large dogs, many health issues are greatly exacerbated by and can be brought on by gaining too much weight. As with all the rest of your dog's health, you'll want to make sure that you're checking in regularly to make sure you aren't overfeeding your dog to an unhealthy weight.
The best dog food for Great Pyrenees, in general, may not be the best one for yours, so make sure you make sure that your dog is enthusiastic about its food when you feed it, but not so much so that more health issues will be looming around the corner.
There are lots of options in many price ranges that meet a variety of needs for both pets and their owners. If guides like these are not matching to your particular needs or tastes, make sure you list your specific needs and ask your vet to point you in the best direction to ensure the best care and nutrition for your Great Pyrenees going forward. Make sure you're keeping track of how your dog's skin, coat, and energy levels seem, and discuss them with your vet if you have any concerns.
Final Thoughts
Getting the best dog foods for Great Pyrenees puppies, adults, and seniors can be challenging because there are many good options that you can go with. There are many excellent options catering to many different needs of this breed because each dog will have its specific needs and preferences.
Hopefully, the dog foods reviewed here have narrowed down the options enough to get your pup some good and nutritious chow. To start with, you can try out our favorite Taste of the Wild Sierra Mountain Grain-Free dry food that has a nutrient rich recipe and a great flavor that your gentle giant will love.
Check in regularly to have a happy pup and home!