English Bulldogs are notoriously picky and famous for their tendency for food allergies. This is not a breed that you can just play trial-and-error with and hope to find the right food—that is unless you want a very sick dog.
Further complicating things, English Bulldogs are also prone to a range of health issues, including weight gain, bloat, hip dysplasia, cysts, and eye issues. The right food can mean the difference between a long healthy life and a long list of vet bills.
It took me months to thoroughly research the range of food options on the market, and it certainly would have helped if someone narrowed things down for me—so that's what I'm going to do for you—narrow it down to the top five best foods for English bulldogs in 2019.
OUR TOP PICK
While I think that the best dry dog food for English Bulldogs is going to vary by the dog, if I had to pick one food to start with, it would be
Taste of the Wild Grain-Free High Prairie
. This food is grain-free, contains no corn or fillers, and is going to be a good fit for most dogs.
Our Best Dog Food for English Bulldogs Reviews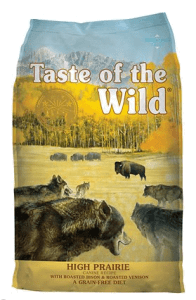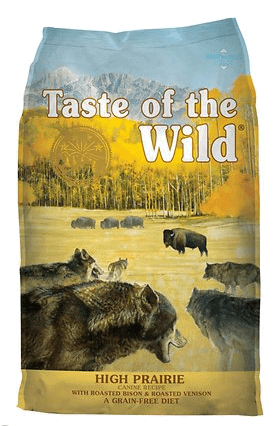 Taste of the Wild is one of the best-known dog food companies in the US, and for good reason. They offer a variety of flavors with meat as the number one ingredient and are devoted to producing grain-free products for sensitive breeds like the Bulldog.
Features
Zero corn, fillers, wheat, or artificial colors
Real meat is the first ingredient
Protein-rich (32 percent)
18 percent fat
370 kcal/cup
What I liked
The roasted meat in this formula provides your dog with good energy without the risk of allergic reactions, but it also includes fruits and vegetables too for complete nutrition. The fatty acid blended with probiotics also makes it easier to achieve a healthy body weight for your Bulldog.

What I didn't like
Taste of the Wild is committed to quality, so they often update their formula trying to improve it. While that may seem like a positive point, when you're feeding an English Bulldog, it's a problem. Sudden—even minor—changes to their diet can cause a whole host of trouble.
Pros
Grain-free
Made with real meat
Antioxidants for a healthy immune system
Made in the USA
Cons
Frequent formula changes
Not GMO-free
A great grain-free, high protein option, Taste of the Wild Grain-Free High Prairie provides a well-rounded nutritional profile without anything extra to set off your Bulldog's sensitive stomach.
Overall rating: 4.9/5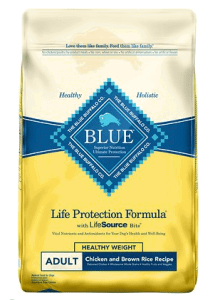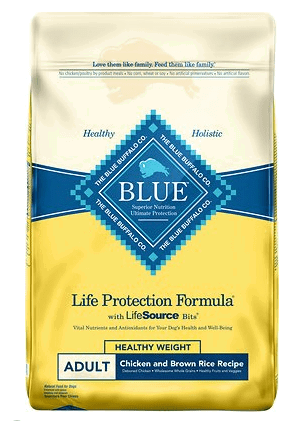 Aimed at breeds like the English Bulldog that have issues with weight gain, Blue Buffalo Life Protection is the perfect choice to keep your dog at a healthy weight. Low in calories, but nutrient dense, this formula has real chicken as its first ingredient.
Features
Made with real chicken
High in fiber
20 percent protein
9 percent fat
What I liked
This food addresses one of the most significant issues Bulldogs face—weight gain—and it does it well with a fiber-rich formula helps your dog feel satisfied while eating less. This can also make feeding your dog a bit more affordable.
What I didn't like
This formula, does, however, include grains (likely for the added fiber). Many Bulldogs have grains on their list of skin condition triggers. They often do better on a lower carb formula.
Additionally, Blue Buffalo has been the subject of much controversy in the dog food realm thanks to past litigation regarding deceptive product packaging and lead contamination.
Pros
Designed to maintain a healthy weight
Helps aid healthy digestion
Meat is the first ingredient
Cons
Not grain-free
Brand has some rep issues
If you know for sure your Bulldog can handle grains, Blue Buffalo might be an excellent choice, but keep in mind their questionable brand reputation.
Overall rating: 3/5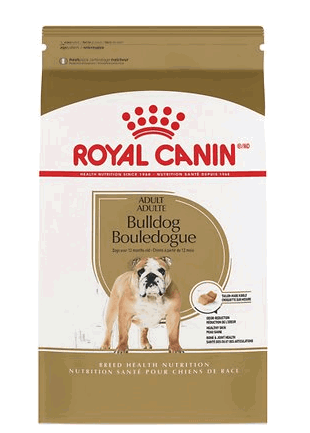 Royal Canin will make your dog feel—like the name suggests—royalty. This breed-specific formula is designed for the unique needs of Bulldogs alone and comes from a brand internationally regarded as top-quality.
Features
Designed explicitly for Bulldogs
For dogs 12 months of age or older
Made with chicken and pork meal
22 percent protein
12 percent fat
What I liked
With how challenging finding the right food for Bulldogs is, it's fantastic to see a food formulated just for them.I also like that Royal Canin has a puppy version of this food that is possibly the best dog for English Bulldog puppies. This option allows you to transition from puppy food to adult without switching brands or with as dramatic of a formula switch—a huge positive.

What I didn't like
The mixed-meat, grain-included nature of this food makes it pose a higher risk of ingredient reactions. When it comes to the best food for English bulldogs, it's best to go as limited-ingredient as possible.
Pros
Helps promote healthy skin
Reduces bloat and gas
Great for joint health
Shape designed just for Bulldogs.
Cons
Not grain-free
Mixed meats
Royal Canin's Bulldog formula is a reliable choice if you are familiar with your dog's sensitivities and can quickly determine if the long and mixed ingredient list will cause issues.
Overall rating: 4.4/5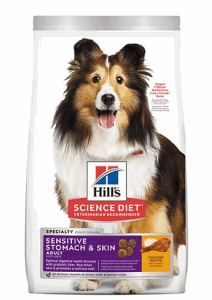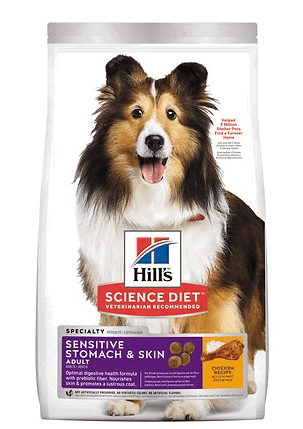 Another product designed for dogs with sensitive stomachs and skin, Hill's Science diet is well suited to control some of the issues English Bulldogs frequently have. This is also a well-regarded brand that's frequently carried by veterinarian's offices.
Features
Made with chicken and pork
Rich in Vitamin E
26 percent protein
19.6 percent fat
What I like
This formula focuses heavily on making the food easy to digest and ensure it won't upset your dog's stomach. It also contains a good percentage of Vitamin E to help promote healthier skin and coat in your dog. Bulldogs often have skin that's just as sensitive as their stomachs.
What I didn't like
Again, for a dog food aimed at dog's with diet sensitivities, this food has a lot of ingredients. The price of this food may also be prohibitive for some budgets, and while this is quality food, there are lots of other contenders for the best dog food for English Bulldogs that come at a better price.
Pros
Highly digestible formula to reduce bloating and gas
Prebiotic fiber
Designed for dogs with sensitive tummies
Top recommendation by veterinarians
Cons
Mixed meat
Not grain free
Expensive
If you're not that concerned about price, Hill's Science diet poses a great choice for dogs that can handle grains.
Overall rating: 4.3/5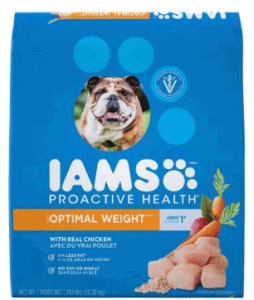 Specially designed for the breed, this is one of the best dog foods for English Bulldogs. IAMS Dog Food is a trusted brand in the pet food market, and large enough they have the funding to create well-researched formulas for a variety of dog sizes, ages, and breeds.
Features
Made with real chicken
No soy, wheat, or fillers
22 percent protein
11 percent fat
What I liked
Nutrition wise, this food contains everything your Bulldog should need to stay healthy and dodge most of the major health concerns this breed faces. It's also easy to find in most stores and comes in at a relatively affordable price.
What I didn't like
Corn is the number one ingredient in this food, and corn is a typical allergen for Bulldogs as well as being considered a filler in dry dog food with minimal dietary benefits. This brand also does not offer a puppy version of their bulldog formula. This is only designed for adult dogs.
Pros
Promotes good digestion
Aids in healthy bones, joints, skin, and coat
Designed for good metabolism to control weight gain
Cons
Ground whole corn is the first ingredient
For adult dogs only
In general, IAMS Proactive Health Adult Bulldog dry food is worthy nourishment for your English Bulldog assuming you have an adult dog who can handle corn products.
Overall rating: 3.6/5
Bulldog Food Buyer's Guide
As mentioned a few times in my English Bulldog food reviews above, this is a breed with distinct dietary needs, and with those needs come a long list of things you'll want to look out for when choosing a food.
Weight maintenance
The first thing you want in good food for English Bulldogs is a formula that helps maintain a healthy weight. This is going to include things like high fiber, nutrient dense, quality ingredients, pro- and prebiotics. All the above are going to help reduce bloating and gas, while likewise allowing you to provide smaller portions. The bonus there is you'll use less food—and so spend less on it.
Make sure you're feeding your dog according to the guide provided by the company—or your vet—and offer timely small feedings rather than allowing your dog to free-feed (just keeping the dish full) or offering one large meal per day.
Allergy reduction
Next, you want to find a dog food with as few ingredients as possible with no unnecessary additives or preservatives. It's best to stick to one type of meat as the primary ingredient and skip grains.
I know this sounds contrary to the high-fiber recommendation, but there are healthy sources of fiber that don't come for grains and are easier for dogs to digest, such those found in many fruits and vegetables.
High fiber and limited ingredients also often lead to lower carb content, which reduces the formation of yeast. As
yeast infections
and other skin conditions are a common Bulldog bane, this is something you want to keep in mind. This breed should never be regularly fed high-sugar food or treats. High sugar content is particularly common in flavored treats but is occasionally seen in lower quality foods too.
Overall health
Both the above factors shouldn't overshadow the need for complete nutrition. It does you no good to avoid grains and find a food that digests easily if it leaves you dog malnourished. Dogs need a high-protein diet with plenty of antioxidants and amino acids.
Age
It's also important to keep your dog's age in mind. The best food for an English Bulldog puppy is going to differ from that which is best for an adult. Primarily, puppies need more protein and DHA to promote healthy growth. Adults require lower protein and more moderate fat. Seniors require the lowest fat content as this is when weight gain presents the biggest concern. Ingredients that promote joint health are also advised for older dogs.
Budget
Finally, it's all well and good to find the best food for your Bulldog, but it also needs to be something you can afford. Dry dog food is generally fairly affordable, but particularly in the case of brands that are harder to find locally, it can still become costly if you choose the wrong product—and you don't want to be switching foods often due to price with a Bulldog.
Try to check the price fluctuation in the brand you're considering. You might be surprised how much some fluctuate. Coincidentally, those with more price variance also often have more formula shifts, so a volatile price may be a good sign to stay away.
Final Thoughts
Bulldogs are undeniably a tricky breed to feed—but owning one is well worth the trouble. These gentle slobbery giants have a unique personality you won't find in any other dog.
If you have an adult dog, we recommend looking to Taste of the Wild's grain-free options, with the buffalo flavor being a good place to start. If you're feeding a puppy, on the other hand, you might try Royal Canin Bulldog Formula puppy food (though it is not grain-free) if you can find it in your area.