Last Updated on by Gail Ramirez
If your Golden Retriever is anything like most, chances are all they want in life is to make you smile—and chase squirrels and sticks, get belly rubs, and hide treasured bones. This is a breed that loves to please, and their irreplaceable service as your best friend no doubt warrants only the best dog food. What is the best dog food for Golden Retrievers, though?
In this competitive market, it's easy to get lost in the hype. Do you really need to go grain-free? Is dry or wet food better? Can dogs have food allergies? There is so much to consider, but no worries—I'm here to help. I've compiled a full list of the best food for Golden Retrievers along with a buying guide.
Top Pick
Cutting right to the chase, my top pick is Taste of the Wild Pacific Stream dry dog food. This formula has been designed in a way that guarantees a wholesome meal with high nutritional value, proper vitamin inclusion, and a low price to seal the deal-making it a perfect combination for all almost every customer in search of a quality product at a fair price.
Not only do they guarantee a grain-free recipe, but their meals are also appropriately balanced and will be light on your pet's digestive system, making your friend happy and healthy.
I love the transparency this brand offers. Taste of the Wild unquestionably wins the top-pick title, making it the best dog food for a Golden Retriever.
So What Food Are Best for Golden Retrievers?
Product Reviews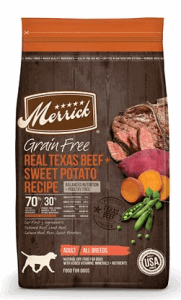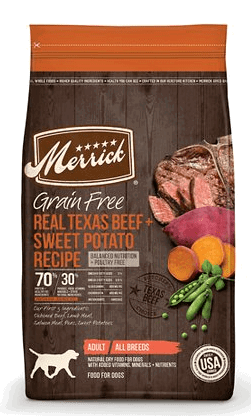 The first product in line for review is Merrick Grain-Free formula. It is available in a wide variety of meats, including top-quality buffalo, chicken, beef, fish, and lamb. Of these, my Golden seems to prefer the buffalo and sweet potato flavor.
Key Features
#1 ingredient is real deboned buffalo
Omega-6 and Omega-3 fatty acids for healthier skin and coat
70 percent protein
30 percent fat
Cooked in the USA
Includes whole foods
Best for all life stages and all breed sizes
What I Like
I'm a fan of the added Omega-3 and 6 fatty acids which are essential for a healthy coat. The inclusion of supplements like glucosamine and chondroitin that aid in keeping hip and other joints at bay is also a huge plus. Retrievers are active and often medium to large in size, which can lead to joint pain as they age.
What I Don't Like
What I see as troublesome is the cost—this is not an affordable product. While most of us would love to feed our dog the very best, no matter the price, reality gives us budget constraints.
Additionally, even though Merrick claims to offer high-quality ingredients, some buyers have complained it made their dog sick. Of course, those are exceptions rather than the rule, but these drawbacks were enough to prevent this product from being named the best dog food for Golden Retrievers.
Pros
Grain and gluten-free
Omega-6 and Omega-3 included
Supplements for healthy hips and joints
Cons
Retrievers require a high-protein diet coupled with essential carbohydrates, fiber, and natural ingredients to pack a perfectly balanced meal. Merrick Grain-Free ticks all these boxes and more. It's an excellent choice if it's in your budget range.
Overall rating: 4.6/5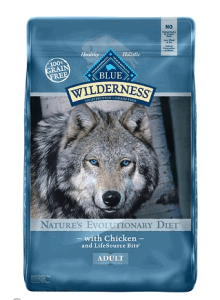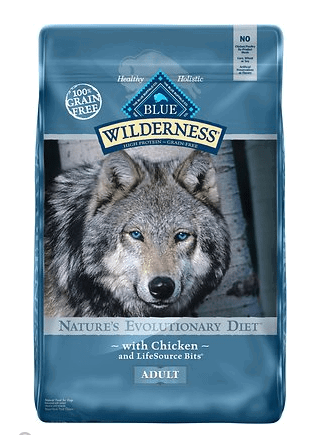 Available in three flavors; chicken, salmon, and duck. Blue Buffalo Wilderness High Protein formula offers excellent variety for active dogs. Made from the finest ingredients enriched with proper, suitable vitamins and minerals, this food should aid your dog in becoming a strong and healthy individual. It caters to dogs of all sizes, which is essential to satisfy a broad range of customers.
Key Features
Made with real meat
Grain-free food
Omega-3 and 6 fatty acids to support skin health
No preservatives and flavors added
What I Like
An interesting feature this food brings to the table is that Blue Buffalo claims to use fresh meats and does not add preservatives or artificial flavors or colors to enhance the visual appeal. It is also grain free to prevent allergies in your dog at an early stage or down the line as they grow.
What I Don't Like
However, many one-time loyalists to this brand complain they have a habit of changing their formulas, something that can be very rough on a dog's stomach—as anyone who has ever unexpectedly changed dog foods can attest.
Blue Buffalo also has a bit of a torrid legal history with serval class-action suits against them for deceptive labeling and potential lead contamination.
Pros
Real meat, high protein
Grain-free
Precise vitamins and high-quality ingredients
Cons
Brand reputation less than stellar
Personally, the myriad of complaints against this company is enough for me to look elsewhere, but they also have a large customer base of happy dogs, so they might be worth a try. I would certainly start with a smaller bag. It's a shame, because aside from the brand reputation, this may have been my top pick for the best dog food for Golden Retrievers.
Overall rating: 3.5/5
Fromm Gold utilizes a variety of meats in their recipe, including duck, chicken, and lamb, which provide high protein along with whole eggs and real cheese. Their large breed formula is explicitly designed for dogs over 50 pounds in weight and supports good joint health.
Key Features
Cartilage to promote joint health
Optimum omega fatty acids ratio to help in a better meal
Made in the USA
Natural ingredients enrich health
What I Like
What's likable about Fromm Gold is that they add a mixture of prebiotics and probiotics which help the good bacteria present in your dog's gut maintain a healthy balance. Another valuable feature worth mentioning here is that no wheat, corn, colors, and artificial flavors are added to improve the taste. These ingredients are common allergens in pets.


What I Don't Like
For a food designed for large breed dogs, the kibble used here is relatively small. That might be a positive if you're looking for the best food for a Golden Retriever puppy, but in adults, it could present as a choking hazard.
As this food is made for dogs over 50 pounds, that also restricts the number of dogs this will be suitable for. For instance, many female Goldens are smaller than this.
Pros
Cartilage for better joints
Omega fatty acids
Real cheese with prebiotics and probiotics
Corn, colors and artificial flavors free
Cons
Small kibbles for large breeds
Pricey — there are other good quality dog food, like Wellness, or Halo, that are more affordable
Fromm Gold Large breed is a wonderful choice for large male Retrievers or even puppies.
Overall rating: 4.4/5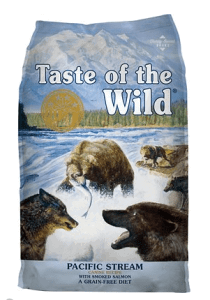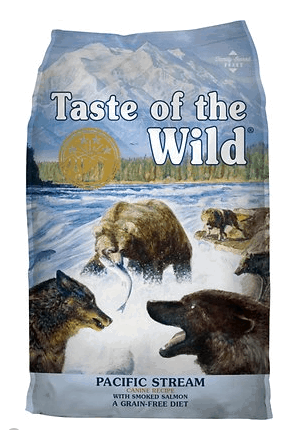 Looking for a decent product for your dog offered at a low price along with several benefits? Look no further because this review focuses on a product that provides high protein from real smoked salmon to satisfy the taste buds of your furry friend.
Key Features
Real salmon is the first ingredient
Optimum amino acids added for a healthier system
Ingredients from trusted sources
Highly digestible
What I Like
Some dogs may be prone to allergies, and that's why Wild Pacific offers a grain-free, high protein enriched recipe loaded with fiber, which leads to not only a balanced diet but a good digestive system.
The recipe is based on salmon, which is an optimal source of omega fatty acids, improves gut abilities, and promotes healthier skin for your pet along with amino acids. This food isn't just good for golden retrievers, for other large active breeds like Aussie Shepherds too.
I like to know what I'm about to buy, and Taste of the Wild has not held back from providing ample information related to the nutrition value, vitamins, details of ingredients, and a proper chart to settle a customer's confusions. This transparency is reflected in the fact that consumers seem satisfied with the product.
What I Don't Like
A drawback here is that Taste of the Wild can have quality issues if stored incorrectly. As a result, many users have issues ordering it online. While this brand is widely available in stores, it's essential no matter where you buy from the choose a reputable source.
Pros
Rich in protein
Value for product
High-quality ingredients
Balanced meal, easily digestible
Good customer feedback
Cons
Sensitive to poor storage techniques
Taste of the Wild Pacific Stream is our top pick as the best food for Golden Retrievers because of its quality ingredients and affordable price. Its high-protein mix is also well-suited to these active, family dogs.
Overall rating: 5/5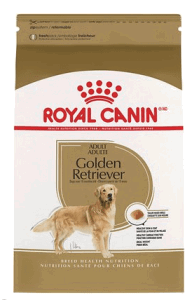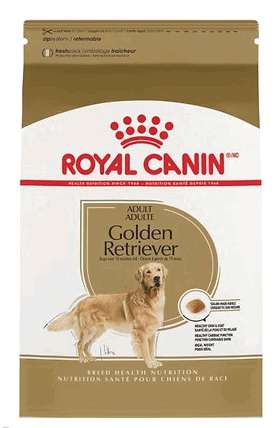 Our next product offers a kibble shape design to allow your pet to have a proper crunch, but it's also designed explicitly for Golden Retrievers. The formula pays close attention to ingredients that support a healthy coat and skin. Goldens are known for their shiny coats, and this product caters to that delicate need.
Key Features
Designed for the needs of dogs 15 months or older
Exclusive kibble shaped design suited for Golden Retrievers
Precise calorie count
What I Like
An accurate calorie count is provided to help pet owners understand how many calories their dog is consuming per cup along with the fat content, which is quite necessary, with respect to food items.
Additionally, as this brand also provides the best puppy food for Golden Retrievers in its puppy version of this same formula, transitioning as your puppy grows older will prove easier.
What I Don't Like
The first ingredient in this food is brown rice rather than real meat (which means, of course, this is not a grain-free option). I believe that dogs do best with a meat-based diet more akin to their cousins in the wild.
The manufacturers have not provided a sound analysis or breakdown of their product, which a lot of customers look for in a product to clear any concerns.
Pros
DHA, EPA, and taurine included
Affords care to your dog's skin
Accurate calorie count
Cons
Contains grains
May not be available locally
Royal Canin is one of the few brands that offer a breed-specific option for Golden Retrievers and even makes the best dog food for Golden Retriever puppies to boot. It's unfortunate their recipe contains grains, though.
Overall rating: 4.6/5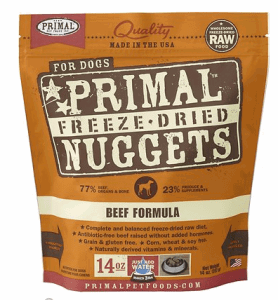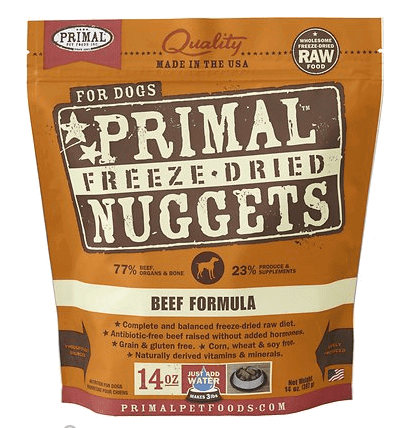 If you're on the lookout for a product that is readily available and only needs to be hydrated to be fully prepared, then this will meet your standards. Primal freeze values proper diet for dogs. They claim to add natural and organic vitamins, minerals, and ingredients in the recipe mix, offering a balanced diet for all life stages of dogs.
Key Features
Balanced for all life stages
Gluten, grain and soy free
Made using the freshest ingredients
What I Like
A feature that seems to stand apart is that their cows are raised without hormones—which is a valid point considering how animals can be artificially beefed up, and this gives this product an edge over others.
I personally like steroid-free materials and would prefer my dog to have the same to boost his health, prevent infections and to see a lively pup with maximum energy levels every day. This product also might appeal to individuals who do not wish to chop, mince, or prepare food as this product provides a ready-made meal only to be rehydrated—saving you the hassle of running around for different necessary ingredients.
What I Don't Like
While this product is grain, gluten, and corn free and will protect your pup from allergies and similar issues, and the manufacturers have paid close attention to make sure the quality and standard is maintained, I dislike that they have not included veggies and fruits in their recipe which are essential for a balanced meal.
This would also be a costly primary food source for a Golden given their size. It will work better as an occasional treat or to mix with a dry kibble.
Pros
Balanced meal
Proper care of cows
Gluten, corn, soy free
Natural vitamins
Low price, affordable
Cons
Expensive for a large breed
A little lacking on vegetable matter
Primal Freeze is a high-quality alternative to dry food that comes in a wide range of flavors. While nutritionally as a stand-alone food it would do fine, budget wise this is better as a mix in. It is also appropriate for dogs of all ages and, while not the best dog food for a Golden Retriever puppy, could be used as a puppy food before your dog's appetite revs up.
Overall rating: 4.5/5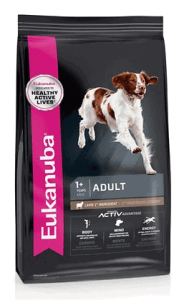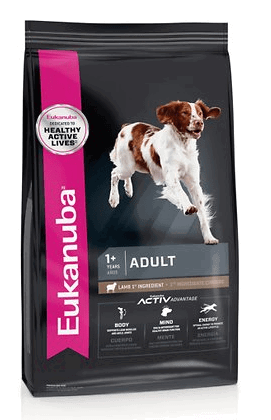 If your Golden Retriever has a liking for lamb, then this product will meet their expectations. Rich in protein, it also offers glucosamine and chondroitin sulfate which reduce stiffness in joints, promote better hip function, and overall make muscles stronger for your dog to enjoy a stroll around the park for many years to come.
Key Features
Complete and balanced meal for medium breed dogs over 12 months and up to 54 lbs.
DHA and Vitamin E included for healthy brain function
High-quality lamb used
What I Like
This product promises a formula for an active lifestyle with optimum levels of fats and carbohydrates, leading to a balanced meal every time your puppy munches upon this snack.
The product description suggests pairing this with adult wet dog food for a bonus, which in my opinion is a bad option, considering how one should aim to provide all the necessary elements and not suggest another to pair with.
What I Don't Like
Even though they offer some high-quality lamb, it is not stated where and how the lamb is obtained and stored—this is an important detail to mention. I would not know where my dog's meal is coming from, as this puts a doubt on the quality they promise to customers.
Pros
Includes DHA and vitamin E
High-quality lamb
Cons
Concise information, not detailed
Lamb source unknown
Eukanuba has created a top-quality product aimed at active dogs with this formula, but it falls a bit short in the information department. Savvy pet owners want to know the finer details of their dog's foods these days.
Overall rating: 4.6/5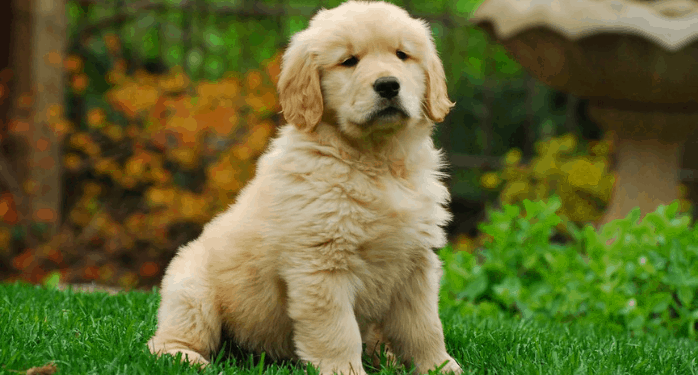 Golden Retriever Feeding Guide
Before bringing a product home, you need to consider some factors, which, if avoided, could end up wasting your money and harming your dog's health in the long run. It is advised to be strict in looking up: what the product is offering, what it does not offer, the source of ingredients, nutritional values, preservatives, colors/flavors, grain free product and many others, but here I will try to highlight a guide which should make your trip to the store more straight-forward.
Nutritional Value
Price tags tend the garner a lot of attention for shoppers, but it's quality that should be your focus. Your dog requires plenty of energy to grow and maintain proper health, and this will only happen if you provide a balanced, high protein, low-fat meal with fiber in the form of fruits and veggies included. However, proper care must be given, and an expert should be consulted as not all fruits and veggies will suit your pet, some might trigger allergic reactions or bring digestive issues.
Just as a human requires a balanced meal, your pet does too. These vitamins will nurture a dog to develop a stronger immune and digestive system. It is crucial to know whether the product includes omega fatty acids or not as they are a valuable mineral you cannot ignore along with supplements that promote bone strength.
Make sure you take care of your golden's ears, skin, and coat, as they may tend to develop allergies and infections that affect these areas. Feed them high-protein, grain-free food that would keep from triggering these conditions.
Ingredients and Their Source
Another factor to keep in mind is which ingredients are used, and from where were they are obtained. Chicken, beef, fish, and boars that are freshly caught will escalate the quality of the product making it better for your pet in all aspects of life—bringing a smile to the pup's face.
Golden Retrievers are generally known for their shiny coat, and this can be achieved by adding appropriate nutrients leading to a brighter coat for your loved one.
The source is also necessary to be listed, as unknown sources can often be questionable, and not a lot of manufacturers are keen on providing their meat sources.
Price and Packaging
These can make or break a product. Customers tend to avoid high priced products even if what it provides is healthy, premium, and excellent for your dog. You should be able to recognize whether the price charged is justified with respect to what the product offers or not.
The packaging is what keeps the product intact, and a poorly packaged product will only invite harmful bacteria, which will never lead to a favorable outcome for your little friend.
Unrefined/Processed
Plenty of brands add unrefined vitamins and minerals to either preserve taste or make their product look tempting. However, this comes at a great price as these preservatives can damage the dog's body and put him in harm's way.
Processing foods is common to maintain quality, but these foods are high in sugar and fat, which your dog needs to avoid.
Here's a video of other things you need to know in order to take good care of your golden.
Final Thoughts
After reviewing seven of the best food for Golden Retrievers, my top pick is none other than Taste of the Wild Pacific Stream dry dog food.
This product is ideal for customers looking for a high-quality product at a low price. The disadvantages can be overlooked considering how Taste of the Wild offers high value along with a balanced nutritious meal—leading to a dog full of energy throughout the day.