Is your dog's scent a little too doggy for you?
Mine was. Until I found the best dog deodorizing spray to help get rid of the smell. With the right odor spray for your dog, you'll be more enthusiastic about having your dog in the house and enjoying his/her cuddly furriness.
OUR TOP PICK
The top pick is
Premium Pet Deodorizer.
It is an excellent pet perfume for this. Not only does it give your dog a pleasant scent, but it also de-stresses your dog.
The Best Dog Deodorizer Sprays Reviewed
The Premium Pet Deodorizer by Pet Diesel is our number one pick for best dog deodorant spray. It has a mild lavender scent that masks unpleasant dog odors and leaves your dog smelling like royalty.
The mildness of the deodorant is important because it means its scent won't be too cloying for you or your pet. The deodorant's calming scent is also great for keeping your dog at ease, which makes it great for typically anxious dogs.
Its formula contains essential enzymes that will work wonders on your dog's coat, leaving it looking glossy and shiny.
Key Features
100 percent organic formula
Lavender, marjoram, and chamomile scent
Contains de-stressing agents
Easy to spray bottle
Premium Pet Deodorizer is already awesome for its pleasant and long-lasting scent, but the product takes things further by containing ingredients that actively combat itching and make your dog's fur shine. This makes it a great package with multiple benefits.
On the downside, for a water-based deodorant, the spray's effects last for a reasonable amount of time, but not as long as I'd like.
Pros
Minimizes itching
Stress-relieving scent
Contains essential oils that give your dog a shiny coat
Money-back guarantee if you're dissatisfied with the product
A lovely, mild lavender scent that's not offensive to a dog's sensitive nose
Available in lavender, baby powder, eucalyptus or peppermint scent
Affordable dog deodorant in a big 8-ounce bottle
No residue when sprayed on your dog
Cons
Its scent doesn't last as long as other pet perfumes
The Verdict
If you want your dog smelling like a relaxing scented candle, this dog deodorant is a great choice at an affordable price. Even though its smell doesn't last very long, it comes in a big bottle, which means you can spritz your dog as many times as you need.
Overall Rating – 4.7 stars out of 5
While other dog deodorants only cover up a dog's odor, Espree Rainforest earns its spot among the best dog deodorizing sprays by actually neutralizing bad odors.
Key Features
4-ounce bottle
Made in the USA
Easy to spray trigger
Rainforest scent
Organic ingredients
This spray's unique Aloe Vera composition will leave your dog smelling clean, like a green rainforest. The lovely scent is neutral enough not to bother your dog or smell too powerfully in your home, but also strong enough to eliminate gross dog smells.
Aside from a great smell, the deodorant's Aloe Vera content will also leave your dog's fur looking beautiful by conditioning it.
It comes in a 4-ounce bottle, which is smaller than the Premium Pet Deodorizer, but Espree Rainforest makes up for this with a scent that lasts for days.
Pros
Natural ingredients that are safe for canine use
Suitable for dogs of all ages
Very affordable price
Mild yet long-lasting scent
It contains ingredients that actively condition your dog's fur
Cons
The bottle is a bit small
The Verdict
This is a great product with a long-lasting natural rainforest scent. It's also affordable, making it a small price for a lovely smelling dog.
Overall Rating – 4.6 stars out of 5
If you would like to save money on a quality dog deodorant, the WAHL dog deodorant gives you an 8-ounce bottle for well under $10—but don't let its affordability fool you. This Eucalyptus & Spearmint scented deodorant is a top product with a lasting scent.
Key Features
Made in the USA
Contains Aloe Vera
Light natural fragrance
Made from plant-based ingredients and natural oils
A pet-friendly fragrance that can last for two weeks
Easy-to-use nozzle
This spray's fresh scent isn't overpowering, and it's made from natural oils that are excellent for boosting the health of your dog's fur and skin. Because of its strong scent, you only need to use a very small amount, which means the 8-ounce bottle is going to last for a long time.
The affordable price is amazing, too, Considering how well the deodorant works at eliminating smells and how long its scent lasts. However, the claim that its scent can last for two weeks is an exaggeration. Nonetheless, it lasts longer than most other pet deodorants.
Pros
No harsh chemicals that might irritate your dog's skin
Eliminates bad odors instead of masking them
Leaves no residue on your dog's fur
All-natural ingredients
Large 8-ounce bottle
Won't cause problems in dogs with allergies
Cons
You may find the smell strong at first, but you'll get used to it
The Verdict
WAHL Dog deodorant is definitely a top contender for best dog deodorizing spray, especially Considering its affordable price and powerful effect.
Overall Rating – 4.6 stars out of 5
This deodorant is great for both pets and pet parents, thanks to its 100 percent natural ingredients and aromatherapy effects. Its lavender and chamomile-scent are relaxing for both humans and dogs. It's also mild enough not to irritate your dog's sense of smell.
Key Features
8-ounce bottle
Made in the USA
Aromatherapy benefits that de-stress your dog
Contains natural ingredients like Aloe Vera, oat, castor bean oil, and vitamin E oil
No parabens or dyes
This is a big bottle of lovely smelling deodorant at an affordable price, but my real favorite thing is its oat, castor bean oil, and vitamin E oil ingredients that help combat yeast infections and strengthen your dog's fur.
It works great as an odor eliminator and contains active ingredients that'll give your dog a shiny coat. In short, using this deodorant on your pet is like taking your dog to the spa.
Its scent doesn't last for as long as I'd like, though.
Pros
Recommended by veterinarians
All-natural ingredients for a lovely scent, and healthy skin and fur
Mild scent de-stresses both the pet and the owner
No harsh chemicals or artificial dyes
Cons
The scent doesn't last very long
The Verdict
If you want a deodorant that takes care of not just your dog's smell, but also the health of its skin and fur, you should give this product a try.
Overall Rating – 4.6 stars out of 5
Dog Deodorizer Buying Guide
Choosing the Best Dog Perfume
To find the best dog deodorizing spray for your best friend, you need to look out for the following features:
The Fragrance
The fragrance of a dog deodorant can't be too strong. If it's too strong for your nose, then it'll be worse for your dog and can lead to a negative reaction.
The deodorant must have a pleasant, soothing smell, but not an overpowering one.
Long-Lasting
A very good dog perfume will have a scent that can last on your dog for days. This is the type of perfume you want because it will eliminate your dog's bad odor and replace it with its sweet scent. It's also more economical since you won't have to keep spraying your dog to keep him smelling sweet.
Allergy-Free
It's best to go for a perfume that contains all-natural ingredients. This reduces the chances of your dog having an allergic reaction. An allergic reaction to chemicals in a perfume can manifest as non-stop sneezing or a bad skin reaction.
Insect-Repellent
Some dog deodorants attract flies while others repel them. You want a neutral one that repels flies. If you get one that attracts insects, you'll cause problems for your dog that can easily escalate to a lot of itching or even a skin infection.
Moisturizes
All the deodorants on our list of best deodorants contain ingredients that promote healthy skin and fur. It's a lovely benefit to get from a deodorant as it not only gives your dog an attractive scent but also healthy fur that you can't resist petting.
There are even some deodorants that contain ingredients that minimize the risk of yeast infections.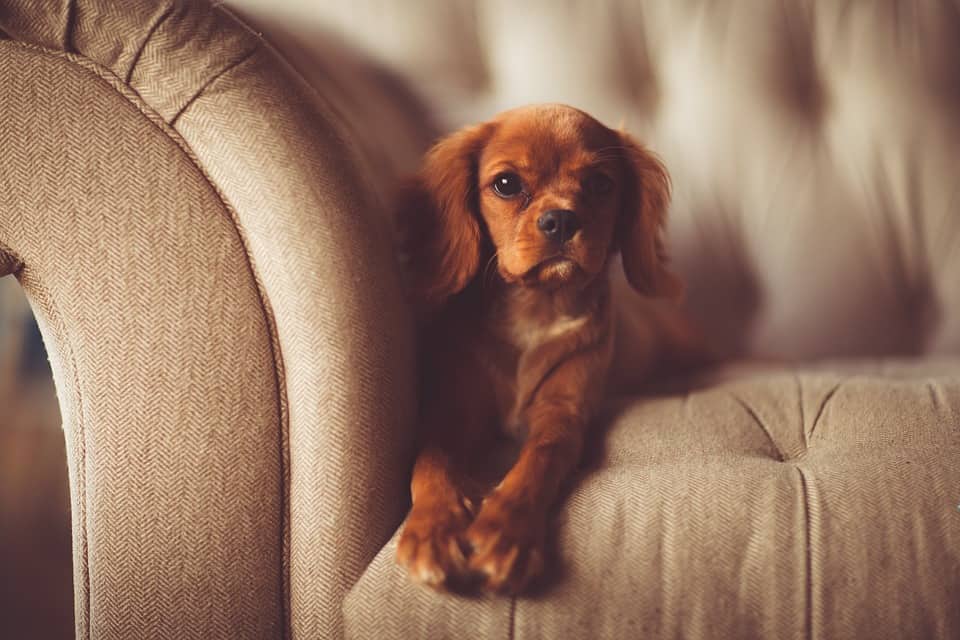 What to Avoid When Buying Dog Sprays
When buying a dog spray for your dog, don't focus on buying the cheapest. Most cheap dog sprays contain ingredients that may be harmful to your dog or simply don't work well enough to be worth buying.
Also, be sure to avoid buying a deodorant with an overpowering scent. If a deodorant's smell is too strong, it can end up becoming an annoyance in your home. Even worse, it will begin to irritate your dog's sense of smell, leading to sneezes or other bad reactions.
If your dog has skin sensitivities, allergies, or an intolerance to certain scents, be sure to avoid deodorants that can trigger a reaction. Such deodorants typically contain harsh chemicals, which will be listed on the ingredient list.
Do a spot test on your dog with a deodorant. If your dog doesn't react badly to it, then you can give it a try.
Final Thoughts
There are a variety of dog deodorants to choose from for your best friend, but if you want one that ensures a lovely scent without hurting your dog, be sure to pick one from our above list of best dog deodorants.
Just remember that the best dog deodorizing spray for you and your buddy will depend on your preferred scent and your dog's sensitivities or intolerances.
The Premium Pet Deodorizer by Pet Diesel is a great choice for most dogs and owners, not just because it's affordable, but also because its pet-friendly, smells great, and contains no harsh chemicals