Wheaten Terriers are one of the smartest and friendliest companions from the family of Terriers. However, this affable and outgoing breed requires a heavy dose of maintenance on its coat.
Wheaten Terriers have non-shedding soft single coats. This non-shedding characteristic causes the hair of Wheaten Terriers to grow continuously, so their hair is prone to mats and tangles.
These entanglements could cause skin damage as they might try to remove them by biting their own clumps of hair.
To prevent these shortcomings, daily brushing is advisable with weekly grooming for maintenance. They also require professional grooming once every 4 to 6 weeks to trim their long hairs short.
OUR TOP PICK
Our top pick is the
Oster Turbo A5 Clippers.
Oster's Turbo A5 is a powerful heavy-duty clipper that can cut through thick and thin hair. This clipper also features a detachable blade system that could enable you to change its blade in ease.
Best Clippers for Wheaten Terriers in the Market…

Oster's Turbo A5 can handle the Wheaten's soft coat up to the tangles and mats of fur with the help of the A5's two-speed setting and the included #10 CryogenX blade.
The #10 CryogenX blade can cut thoroughly through the hair of the soft-coated Wheaten. These blades are machined and treated under very low temperatures to produce a durable and sharp performance.
The Turbo A5 can effectively clip hair at 4,000 SPM in its high-speed setting formats, tangles, and whole-body fur down to 3,000 SPM for precision work and greater control.
At high speeds, the Turbo A5 is relatively quiet but could run into heating problems. However, we believe that the swiftness of its motor could finish the job before overheating.
If used for long sessions where heating issues could arise, one could easily replace its blade and let the other blades cool with its detachable blade system.
The Turbo A5 is sturdy but heavy, weighing at almost two pounds! Yet, it offers a great grip for grooming control.
No attachment combs are included in the package, and it only includes their #10 blade. The Turbo A5 includes no case for storage, but it comes with blade oil, clipper grease, a cleaning brush, and replacement carbon brushes.
Pros
Powerful
Two speed
Not too loud
Good for anxious dogs
Detachable blade system
Includes cleaning accessories
Durable
Cons
Can get hot
Heavy
Have no combs included
No case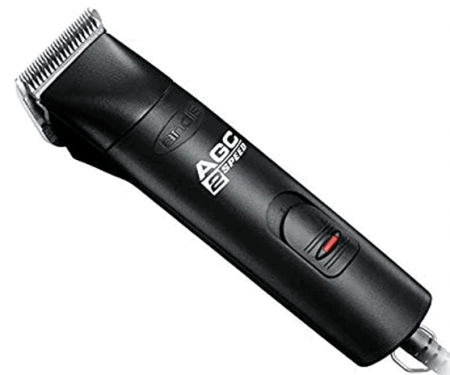 The main selling point of this professional-grade Andis AGC 2 is that it is easy to maintain, unlike other professional clippers that require regular maintenance. For example, its blade drive is cheap and easy to replace within 10 minutes or less.
In terms of clipping, the AGC2 can cut in two speeds: high speed at 3,400 SPM and 2,700 SPM. Thus, it can ensure user control when grooming Wheatens, whether for tangles or just for regular clipping.
However, heating could get in the way as the AGC 2 can get hot, so we suggest getting an extra blade; this clipper also has a detachable blade system, so you could exchange blades while the other is hot instead of using messy coolants.
We also found the AGC2 to be fairly quiet with little to no vibrations, so this would be surely appropriate for uneasy dogs who are not used to grooming.
This clipper can handle several drops, so it lasts longer. However, as the AGC2 can be relatively heavy, this could mean possible wrist fatigue when doing long sessions of clipping.
A 14-foot cord is attached to the unit, so you could have some fair distance from the outlet. In the package, a blade is included with no attachment combs. Also, a pack of blade oil is included, which is sufficient enough as the AGC 2 could perform in its prime with very little maintenance.
Pros
Two speed
Detachable blade system
Quiet and with fewer vibrations
Durable
Easy maintenance
Includes blade oil
Cons
Can get hot
Quite heavy
No attachment combs included

Wahl features its signature 5-in-1 blade on the Bravura Lithium, which could adjust its blade from 0.7 mm to 3mm. The blade of the Bravura does not overheat despite its ability to skim through thicker coats with its smart motor.
The bravura is also for the most anxious of dogs, for it can cut through very quietly, with low vibrations.
Running at 5,000 SPM, the Bravura houses one of the most advanced rechargeable batteries that could recharge for 60 minutes and then run for 90 minutes!
Additionally, it has an LED battery power indicator and a port where you could use them as a corded clipper (cord coming from the charger stand).
The great features of this tool are compacted into a single clipper that is light and sturdy.
Additionally, a charging stand, a 5-in-1 blade kit, and a hard case are included in the package. The hard case also includes a cleaning brush, clipper oil, and instruction manual.
Despite its outstanding qualities in torque, battery performance, ergonomics, and noise, it lacks the ability to maneuver at a lower speed as it is only a single speed clipper.
In addition, we find its power button to be in a bad location as it can be accidentally turned off while a clipping session undergoes.
But, overall, it's still considered a decent clipper that you can get for your dog.
Pros
Powerful Torque
5-in-1 blade
Quiet with little to no vibrations
Runs cool
Lightweight
Cordless
Outstanding battery performance
Battery indicator
Includes attachment combs
Includes blade oil, blade guard, and a cleaning brush
Cons
Costly
Single-speed
Vulnerable plastic parts
Power button location
Wahl Motion carries the same features of the Bravura but better in terms of torque. It also has Wahl's well-known 5-in-1 blade with adjustable sizes such as #9, #10, #15, #30, and #40, perfect for different lengths you need for your wheaten.
The Torque of this clipper outstands its competitors in the market, perfect for the thicker hair of the Wheaten, especially on its back and neck, for an extremely smooth clipping experience for both the dog and you.
The clipping speed of the Wahl motion can reach 5,500, but only in a single speed. With the amazing power of this clipper, it is remarkable how it could stay quiet and produce almost no vibration at all.
Better than the Bravura, the Wahl Motion has a new Lithium-Ion battery that could clip three dogs in one charge! An incredible feat if you have three adult Wheatens. It also has a battery indicator like the Bravura.
In the package, the Wahl Motion includes a removable handle that looks like a scissor grip, for better control of your tool. There are also six attachment combs ranging from 3mm to 25mm, a charger, and a charging stand.
However, what we did not like with the Wahl Motion is that they failed to offer replacement parts unless the product is still under the one-year warranty. This could force buyers to buy a new clipper or resort to parts from outside Wahl's grasp, which is more harmful than beneficial.
Pros
Powerful Torque and power
5-in-1 blade
Quiet with little to no vibration
Runs cool
Light
Durable
Has removable grip handle
Cordless
Outstanding battery performance
Battery indicator
Includes attachment combs
Charging stand
Cons
Single-speed
Can slip
Expensive
No replacement parts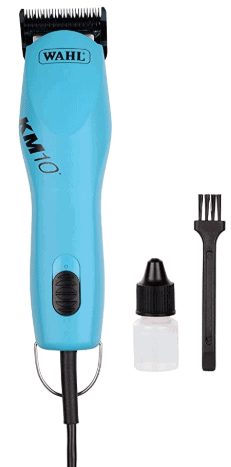 The Wahl KM10 is quiet in its own nature. Wielded with a brushless motor, it could run in two speeds from 2,700 SPM for delicate areas and 3,400 SPM for whole body clippings while maintaining a cool and quiet motion.
We find the KM 10 to dissipate heat well enough to be used for long grooming sessions. It is also a good clipper for anxious dogs as it clips quietly.
These features are altogether enclosed in one sturdy and light unit that could survive drops and reduce arm and wrist fatigue for groomers.
The KM 10 is wired with a 14-foot cord and the package includes only the blade and a brush. The cord of this clipper is known to come apart from its base; thus, it would be smart to tape the cord to its base to prevent this from happening.
Another disadvantage that we found is that the clipper comes only with a relatively basic kit given its price. However, it's a great clipper in general.
Pros
Brushless motor
Two-speed
Detachable blades
Quiet
Runs cool
Lightweight
Sturdy
Cons
Cord problem
Lacks accessories
Why Should We Clip Our Wheaten Terriers at Home?
We have to admit that professional dog groomer appointments can be expensive. Each visit to the groomer could cost around $50 to $80, and your Wheaten should be groomed every 4 to 6 weeks!
A clipper is a worthy long-term investment for dog owners that want to save cash and keep their wheaten terriers free from tangles.
What to Look for in a Pet Clipper?
The numerous specifications of dog clippers that might overwhelm you, but we are here to help you understand what these are:
Clipper Speed
Wheaten terriers could be handled by lower speed clippers. However, once mats and tangles have come to the picture, a higher speed clipper is needed. This is because using slow clippers for tangles in matted hair could pull the clump and inflict pain to your Wheaten.
On another note, clipper speed is measured by spins per minute (SPM), which says how many spins or rotations a motor could produce within a minute. Afterward, these spins from the motor will transfer to the lateral motion of the blades – the faster of this, the better.
Torque
A clipper's speed must be consistent regardless of the load of the hair. Unsurprisingly, a remarkable clipping speed alone without torque would be futile as your clipper will not work under heavy load such as mats, tangles, and thicker coats.
In worse case scenarios, a clipper with insufficient torque can snag your Wheaten's hair, which could cause skin damage and pain.
Noise and Vibration
Noise and vibration from clippers can stress out dogs, which would result in restlessness and possible grooming errors. The clipper's motor and overall build are huge factors to the noise and vibration that they could emit.
Usually, clippers that are more powerful are noisier, but it still depends on how robust the clipper is designed to muffle the noise and vibration.
Temperature
Hot clippers are uncomfortable for your dog and could disrupt both you and your dog's session as you keep on stopping to cool off the clipper. Often times, professional groomers use coolants to reduce heat from the blade or simply attach another blade to let the other blade cool down.
Ergonomics – Weight, Size, and Shape
The weight, size, and shape of a clipper contribute to how well it could be handled by the pet owner. It would be beneficial for the groomer to use a clipper that is light and comfortable to hold for tool maneuverability. Often times, single-speed clippers weigh less than two-speed clippers.
Power Source
Upon choosing the power source of a clipper, buyers should think about their expected frequency of use and their Wheaten's temper.
Obviously, battery-powered or cordless clippers could be inefficient when clipping many dogs as they will require you to charge after every clipping session.
Professional groomers often use cords due to their frequent use of clippers, unlike at-home groomers who only clip once a month.
The other factor is how your Wheaten can handle clipping sessions. Clipper cords can be a hassle when grooming untrained dogs, especially adult medium-sized Wheatens.
Ultimately, it is up to you to make a choice that suits your needs for the benefit of you and your dog.
Final Thoughts
Before deciding on which clipper to buy, it is of utmost importance to assess how well your Wheaten can handle your clipping sessions, your preferences, how many dogs you have, your budget, and how long will you use the clipper. These factors are important as they will help you make the correct investment decision!
For reviews of other excellent dog clippers, you may view our top list of best clippers for airedale terrier available in the market today.