FAt a certain point, every dog will require some sort of trimming, whether it's a short-hair, smooth breed or a big hairy breed. A nice wash and groom will go a long way.
Maltese is one of the most difficult breeds of dogs to groom. A lot of dog owners have complained about the difficulty of grooming Maltese. This is partly as a result of the nature of the dog's coat and also the incorrect tools that people often use.
In this article, you will be provided with a comprehensive guide on how to go about your selection process. We have also reviewed some of the best dog clippers for Maltese to help streamline your selection process.
OUR TOP PICK
Our pick for the best dog grooming clipper is the
Wahl Professional Animal Bravura Lithium Clipper
. This is because of its cordless nature, giving you the freedom to style your Maltese comfortably. It's battery last longer, it runs quietly, it doesn't heat up quickly, and it comes with a "5-in1" blade system. With this, you don't need to invest in additional blades to carry out a simple grooming session.
Reviews of the Best Dog Clippers for Maltese…
Wahl is an outstanding brand in the dog grooming clippers manufacturing industry. The Wahl Lithium Ion Pro Series Cordless Dog Clippers is considered as one of the best grooming clippers for dogs. This product is ideal for Maltese pups.
This grooming clipper is designed for clipping the body of all breeds of dogs. This device comes in a kit. The kit includes color guided combs, making it much easier to find your desired coat length. The model is cordless and it is powered by lithium-ion.
A full charge can last you for an extended period of time with reliable cutting performance and you'll be able to groom every part of your Maltese's body with it. The battery of this clippers can last up to 120 minutes, and it comes with fast-charge technology.
It features a powerful, heavy-duty motor and snag-free precision cutting. It is also ideal for medium coat and double coated clipping. The operation is close to silent.
It is highly recommended for silky and long coats. This makes it a great choice for grooming Maltese. The Wahl Lithium Ion Pro Series also comes with self-sharpening technology.
Pros
Up to 120 Minutes run-time
Heavy-duty lithium powered motor
Quick charge technology – charges in 15 minutes.
Snag-free, precision cutting.
Cons
Replacement blades are expensive

Are you looking for the best clippers for Maltese with elegance and outstanding results, then you should consider the Wahl Professional Animal Bravura Lithium Clipper. This model is best known for delivering a neat grooming.
The issue with many heavy-duty dog clippers is that they make so much noise, with heavy vibration. The beauty of this powerful dog grooming clippers is that it reduces clipper hums and vibrations to the barest minimum.
This will enable you to have a relaxed trimming session with your Maltese. To get the best result and to maximize the full potential of this clippers, make sure the coat of your Maltese is conditioned and clean.
This model is cordless, compact, and it stays cool. It features a powerful rotary motor with a speed of 5,500 SPM. It also comes with a "5 in 1" blade system with high-quality stainless steel. This blade system of this clipper comes with blades #9, #10, #15, #30, and #40.
With the #10 blade, you will be able to groom some areas such as the feet and face. If you want to use the #30 or #40 blade, it is recommended you add a comb attachment.
Pros
Two-speed settings
Includes #10 blade
Cryogenic technology
Extremely powerful motor

The Oster A5 Two Speed Dog Grooming Clippers are one of the most popular choices for pet owners. This clipper will do a great job on your Maltese, as it is very good at grooming long and thick hair. The power of this clipper is exceptional and it can reduce your grooming time by half.
A normal grooming session of two hours can be reduced to 40 minutes because of the high performance of this heavy-duty motors and smooth, sharp cutting blades of this clipper. This clipper comes with two-speed. The low speed is 3,000 SPM while the high is 4,000 SPM.
The blade of this model is detachable, this means you can easily switch between blades. It also comes with the #10 blade, which is the most widely used blade for face or feet. The blade is also very easy to maintain. One drawback about this model is that its operation is not extremely quiet. While it's not noisy, it's also not close to silent.
This model also comes with clipper grease, replacement carbon brushes, and a cleaning brush. Apart from being the perfect tool for grooming Maltese, this clipper also works great on horses and cats. The blades of the Oster A5 clippers are treated and built for durability.
Pros
Two-speed settings
Includes #10 blade
Cryogenic technology
Extremely powerful motor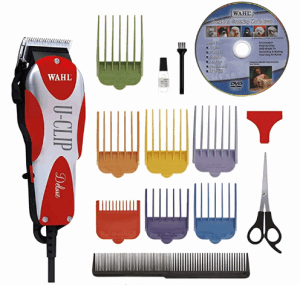 This heavy-duty Wahl Professional Animal Deluxe U-Clip Clipper is known for is high-speed performance. This tool is a companion for many pet groomers.
The heavy-duty rotary motor of this clippers can make 7,200 strokes per minute (SPM). This makes the clipper quicker and easier to use.
It also comes with a complete kit that contains all the basic tools you need to groom, clip, and trim your Maltese. It is also ideal for other breeds such as Spaniels, Labradors, Shih Tzus, Cavaliers, and other medium furred pets.
This model is also great for trimming and grooming paws, ears, face, finishing touches, and clipping of other body parts.
The motor of this clipper runs at very high speed without making noise and generating heat. The sound of this device is close to silent, allowing you to have a comfortable and enjoyable grooming session.
The Wahl Professional U-Clip is made of a high-quality and reliable material that enhances the durability of the clipper.
It also comes with seven attachment color-coded guide combs, styling apron, 'how to" DVD, red clipper blade guide, pet styling comb, stainless steel scissors, and a durable storage case.
Pros
High speed 7,200 SPM
Easy-to-adjust cutting lengths
Powerful, electromagnetic motor
Complete grooming kit

The Andis EasyClip Pro-Animal 7-Piece Detachable Blade Clipper Kit MBG-2 is a great fit for dogs with long hairs or long coats. This makes it suited for dogs such as Maltese.
Among the dog clippers in the market, this model has one of the quietest motors. This is a single speed clipper. The rotary motor of this clipper has a power of 3,700 SPM.
With the quietness offered by this clipper, your Maltese will not be scared of the noise during grooming. Many powerful clippers out there are noisy. But this model is both powerful and quiet, a rare combination.
The power of this clipper makes it suitable for dogs of all coat types. This clipper also comes with power blades that are capable of grooming the hair of a Maltose more effectively. The blades are detachable, giving you the flexibility to change and clean your blades with ease.
This kit also comes with four different attachment combs. This clipper doesn't generate much heat as it comes with a cooling technology design.
Pros
Detachable ceramic blades
Break-resistant casing
Powerful rotary motor
Affordable
Cons
Would have been better if it's cordless
Maltese Fur Care and Needs
The fur of Maltese is straight, silky, and long. It sometimes even get to the floor. Shedding is hardly an issue for Maltese due to the fact that they lack undercoats.
Nevertheless, it is very easy for their silky and long hair to get dirty and matted. They are also quick to develop tear stains on their faces.
Due to the long nature of coats, Maltese pups need to be bathed and groomed regularly. It is recommended that you bath your Maltese every week, and brush its coats on a daily basis. Regular and careful care will ensure the coat of your Maltese remain smooth and beautifully silky.
How to Deal with Matted Coats
Matted coats are commonly associated with Maltese. It is one of the most common issue this breed of dog faces. Even when you brush the coat of your Maltese, mats are still likely to happen.
If you start seeing mats on your Maltese pup, you can begin by using your fingers to gently work out the mat. But before you do this, make sure you apply fur conditioning oil.
After pulling the matted coats apart to a certain level, you can loosen up the tangled hairs with a comb.
It is recommended that you get rid of mats before bathing your pup, as mats get tightened when wet. Don't also try to loosen an entire mat with a brush or comb.
Use your fingers to work the mat out. This would prevent damage, discomfort, and pain on the coat.
The Basic Routine for Grooming Maltese
The grooming routine of Maltese is quite simple, but it does require time. This is why settling for the best dog clipper is very important, as it would speed up the entire grooming process.
It is a must to brush your Maltese daily, and your pup should be bathed every week. Every bathing session (on a weekly basis) should include nail trimming, ear cleaning, and blow out.
Maltese pups have floppy, long ears, hence they require additional care. After taking all these steps, you can proceed to groom the coat of your Maltese.
Tips for Finding the Best Dog Clippers for Maltese
When it comes to grooming your Maltese dog, there are lots of grooming equipment in the market. Some Maltese owners complain that they find it difficult to groom their dog because of the inappropriate equipment and tools they use.
There are certain things you need to know and put into consideration when looking for good clippers for Maltese. Listed below are some of the things you need to consider.
Sound
Most people don't pay attention to the noise when the clipper is operating at a high speed. However, dogs are very sensitive, and the noise of the clippers can play a very important role in your grooming session.
Maltese can find the sound of a clipper very disturbing. So if your dog clipper generates whirly sound, rest assured you won't have a smooth and easy grooming session.
Even if you are going for clippers with high operation power, make sure you opt for the one that operates extremely quietly.
Weight and Size
When it comes to dog grooming clippers, weight can really be a big issue. While the weight of clippers doesn't really signify quality, it is best you opt for lightweight clippers.
However, it is recommended that you go for the not too heavy and not too light type, as the lightest weight clippers are not always ideal for certain tasks.
You need to opt for clippers that you will be able to hold comfortably for a long grooming session. The size also matters. You need to make sure it fits into your hand comfortably. You can easily find the weight of the clippers on the specs or packaging.
Ease of Maintenance
This is another vital thing you need to consider. Dog grooming clippers require maintenance at some point. Hence, you need to buy clippers that are easy to maintain. One which you can sharpen, clean, and lubricate the blades with ease.
Accessories
Accessories are also very important, you can't carry out a complete grooming session without them. Some clippers come in a kit. This means they come with some basic accessories and tools you need to groom your Maltese. It is best you opt for the best dog grooming clippers for Maltese that come with grooming kit.
Conclusion
Keeping your Maltese clean and well groomed all the time is very important. This will keep you and your Maltese healthy at all time.
With hints and recommendations in this article, choosing the best clippers for your Maltese should no longer be a problem for you.
Want to see more hair clipper options? Here are our thoughts about the clippers for Bichon Frise and our top picks.