Tearstains are not only unsightly on dogs, but they can also serve as an entry point for infection-causing bacteria and skin irritation. To prevent this, it is very important that you get rid of the buildup caused by the production of excess tears.
Many pet parents usually handle this issue by washing their dog's face with water regularly, but this is not enough. The best solution to tear stain is tear stain removers, and one of the best products out there is Angel's Eyes.
While there are many tear stain products out there, Angel's Eyes tend to stand out. In this Angel Eyes for dogs review, we will take a closer look at the product and everything you need to know about it.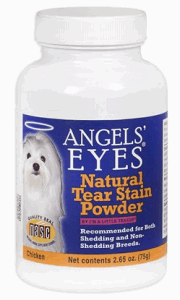 Unsightly tear stains have become a tenacious pest for many pet parents, especially those with light coated dogs. fortunately, there is now a very effective product that you can use to handle this problem at its root rather than using water to wash the ocular area of your dog every time.
One of the top-performing solutions against this issue is Angel's Eyes. This product is specifically designed to get rid of tear stains around the eyes of your canine companion. It can also eliminate those that form around your dog's mouth due to licking and excessive salivation.
Within a period of three weeks, this product can get rid of tear stains completely. The solution also works without topical application. One of the most interesting parts of this product is that it comes in different forms.
You can get it in powder form or soft chew form, making it very easy to administer. You can give this tear stain solution to your dog as a treat or mix it with its food.
The powder is also as effective as the palatable soft chew. However, the chew also serves as a treat, as it helps to clean your pooch's teeth as they chew. In addition to removing tear stains, this solution also caters to the skin and coat health of your dog.
Features and Benefits
Enticing Flavors
As we mentioned earlier, this solution comes in two different forms — a palatable soft chew and a powder form. The powder form is available in two different flavors — chicken and beef. Both flavors are great and highly appealing.
They are flavors that many dogs love, except your dog is allergic to chicken. It also appeals to even the fussiest of eaters, and this means you will not have any issues giving this solution to your dog.
The palatable soft chew form is available in only one flavor, which is beef. You can mix the powder version with the food of your dog, and your dog will consume it without any issue. The chew form serves as a treat that your dog can easily chew while it thinks it is getting a treat.
Ingredients
The Angel's Eyes tear stain remover is made with all-natural ingredients. The solution does not contain additives or artificial ingredients that could upset the tummy of your dog. According to the manufacturer, this product is made in the United States and it contains Eyebright Powder.
This ingredient is highly beneficial, as it enhances the eye health of your dog. This means that this solution does not only remove tear stains, but it also provides your dog with a clearer and brighter vision.
If your dog has allergies or sensitivities, you can still opt for this solution, as it is formulated with such issues in mind. It does not contain any wheat, food dyes, soy, or corn, which may have negative effects on your dog.
The active ingredients of this formula are a proprietary blend of cranberry powder, marshmallow root, and Oregon grape root. The inactive ingredient is 100 percent freeze-dried chicken liver.
Ideal For Dogs Of All Life Stages
This solution is ideal for dogs of all life stages. This means you can give it to puppies, adults, and senior dogs. It can eliminate staining around the coat and mouth of any dog, regardless of the breed and size.
All you have to do is to add the recommended dosage directly to the food of your dog once a day (for the powder form).
For the feeding instruction, you should feed 1/4 teaspoon daily to dogs under 14 pounds, 1/2 teaspoon to dogs from 15 to 49 pounds, and 1 teaspoon daily to dogs that are 50 pounds and above.
Safety
The Angel's Eyes for Dogs is completely safe for your dog. This product carries the NASC Quality Seal, which means that the product is made with the highest quality standards in the industry.
They have undergone an independent audit, so rest assured that you are getting something of high quality that is equally safe for your dog.
The two forms of this product (soft chew and powder) are free from soy, corn, wheat, artificial colors, flavors, and preservatives, making them completely safe for your canine companion.
Angel Eyes Review Summary
Pros
It comes in different flavors that your dog will love
It is free from additives and artificial ingredients
No traces of corn, wheat, food dyes, and soy
Ideal for dogs with allergies and sensitive stomachs
Delivers quick and effective results
Ideal for dogs of all breeds, sizes, and ages
Eliminates staining around the coats and mouth effectively
It is available in powder and soft chew form
Cons
Notable changes take time in some dogs
It does not contain antibiotic, which helps with bad breath
Some fussy eater still reject the powder form
Limited active ingredients
An issue with quality control
General User Impressions
Angel's Eyes have captured the heart of many dog owners. There are many positive Angel Eyes reviews online, and over 80 percent of them are from happy customers. Many pet owners have been using the product for years, and they said it has remained very effective.
"I've been using this product for years. It is absolutely amazing. Why? Because, if you own a dog with eye stains, this product is a complete remedy," a user said, calling it a miraculous product.
Users said the product does not only remove tear stains, but it also prevents it from returning. They also commented on the effect of the product on the eyes, adding that it brightens the eyes of their dogs. The product has worked wonders for many dog owners; it also helped to whiten the coat of some dogs.
Nevertheless, there are also some sideways reviews. Some users said they are yet to see the effect of the product, even after finishing the first container. Some of them have seen only very little change, but it is not up to what they expected.
Our Opinion
With the numerous Angel Eyes for Dog reviews out there, it is obvious that this is one of the best dog tear stain removers on the market. This product is highly effective and it delivers quick results.
It does more than just removing dog tear stains; it also helps to prevent this issue, which means your dog will no longer be experiencing tear strains once this solution clears the existing one.
The product is super safe, as it does not contain any ingredient that could trigger allergies or upset the tummy of your dog. It has the quality seal of the NASC and it was manufactured in the United States.
This solution is also highly versatile, as it comes in different forms, allowing you to choose the option that works best for you and your dog.
Things To Consider Before Buying Dog Supplements
Ingredients
When buying any consumables for your dog, the first thing you need to consider is the ingredients used to make the product. There are many tear stain removers out there, and they are made with different ingredients, with just a few ingredients in common.
The reason why it is important you check the list of ingredients is that your dog might be allergic to some ingredients, and you want to avoid such ingredients. If the solution contains an ingredient that upsets your dog's tummy or triggers some allergic reactions, we recommend you stay from the product.
You also want to make sure the product is made with high-quality, natural ingredients that are safe for your pet to consume. It should be free from fillers and additives, as these can have some negative effects on your dog's system.
Form And Ease Of Administration
You should also consider the form of the solution as well as how easy it is to administer. Tear Stain removers come in different forms, including soft chews, powders, and tablets.
The option you choose entirely depends on your personal preference. However, we highly recommend you go for an option that works best for you and your dog.
Soft chews are very easy to administer, as they come in the form of treats. This means you can give the solution to your dog as a treat.
The powder forms are also very easy to administer; all you have to do is to add the recommended quantity to your dog's food.
Taste and Smell
The taste and smell of the solution are also important. If your dog does not like how the solution smells and/or tastes, they may likely reject it, which would be a waste of money.
As such, you want to make sure you choose a flavor that your dog loves. The smell should be enticing enough to make your dog want more.
You can go through the Angel Eyes reviews by previous customers to know how good the solution smells and tastes.
Frequently Asked Questions (FAQs)
Can I Put This Product On Dry Food?
Yes! You can sprinkle the product on the food of your dog, both dry and wet formulas.
Is It Safe For Puppies?
This product is safe for puppies that are 12 weeks of age and older.
Does It Help With Odor Caused By Tear Stains?
Over time, this product can eliminate bad odor, as this odor is caused by drainage around the eyes that accumulates on the skin and hair.
Final Thoughts
The Angel's Eyes for Dogs is one of the most effective solutions to tear stains on the market today. If you are looking for an all-natural, quick solution to the tear stains issues of your dog, then you should consider this option.
You can go for the option that best appeals to you and your dog. We hope that the information in this article is educational enough to make up your mind about purchasing this product.
At least 80 percent of users saw notable changes in two to three weeks, and you are more likely to see a better result.